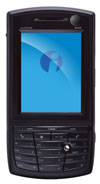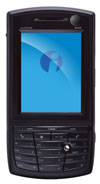 By Shane McGlaun
i-mate announced recently that its line of Ultimate smartphones is now available in the Americas, including the Ultimate 8150. The Ultimate 8150 runs on Microsoft Windows Mobile 6.0 Professional and features WiFi and Bluetooth connectivity.
The phone operates on WCDMA/HSDPA 850/1900/2100 MHz and quad-band GSM/GPRS/EDGE networks. Internal memory includes 256MB ROM and 128MB RAM. Memory expansion is available via a microSD card slot.
Other features include a 2-megapixel camera with flash, autofocus, 4x digital zoom and the camera is video call capable. The screen is a 2.6-inch touchscreen and the phone has a built-in FM tuner. A video output is also available for output to projectors and secondary displays for Office applications included on the phone. The i-mate Ultimate 8150 is available direct from i-mate for $725.
VIA [ i-mate ]