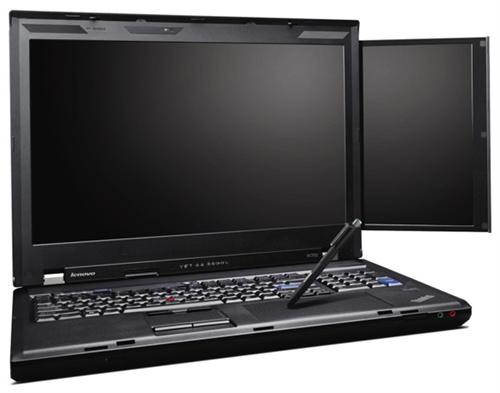 By Evan Ackerman
IBM has a new entry into the realm of absolutely beastly laptops portable desktops, and the ThinkPad W700ds includes a feature you won't find anywhere else, as far as I know: an integrated secondary display that slides out of the primary display. The main screen is 17″ 1920 x 1200 CCFL backlit, while the secondary screen is 10.6″ 768 x 1280 LED backlit. All together, that's a lot of real estate in a compact package.
It doesn't stop with the displays, either. The W700ds boasts Intel Core 2 Quad processors, an NVIDIA Quadro FX 3700M GPU, up to 8 gigs of ram, and up to nearly 1 terrabyte of mixed HD and SSD storage. Want more? How about integrated color calibration and a little Wacom tablet and stylus in the palmrest? Tasty.
The ThinkPad W700ds starts off at an unsurprising 11 pounds and $3600, and will be available this January. If you're looking for something cheaper, The W700ds has a little brother, the W700, which includes all the rest of the goodies except the secondary display starting $3000.
Video of the secondary screen of the W700ds in action, after the jump.