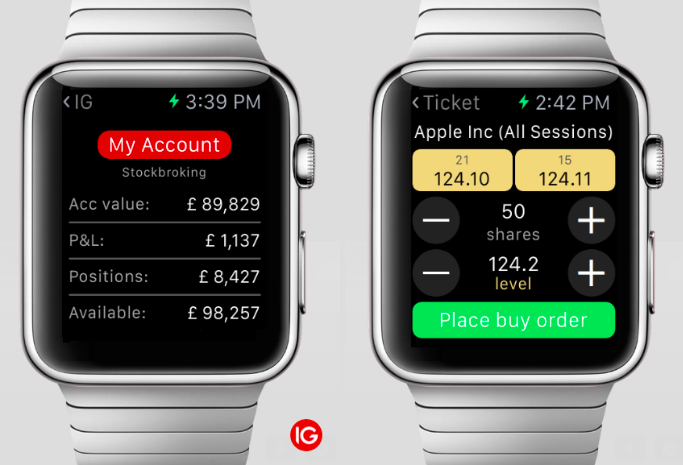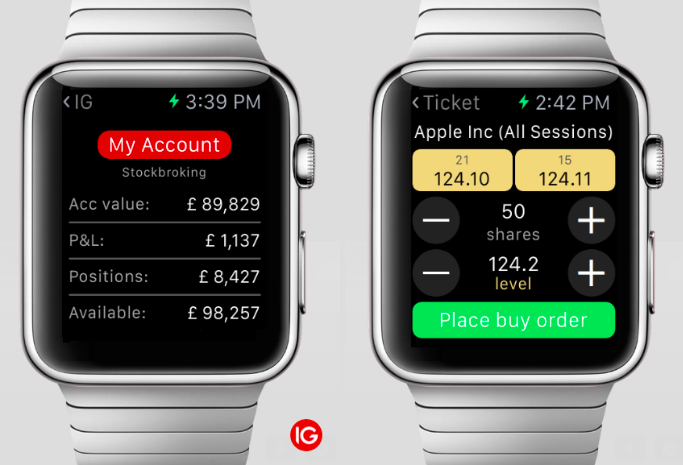 Images sourced from IG. -Ed.

Unless you've been living under a rock, you're probably aware that Apple is going to be launching their first wearable, the Apple Watch, on April 24th. Today is actually the first day that you can pre-order it online, and expectations are high for Cupertino. The breadth of things you'll be able to do with this small device is impressive, and there's already a solid line-up of developers ready to launch their apps alongside it.
One of these companies is the world's No.1 spread betting and CFD provider. IG in the UK provides financial spread betting, Contracts for Difference (CFDs), stockbroking and forex to a substantial client-base, and has already developed trading applications for all major mobile platforms. Today they'd like to announce that they have an application ready to go for the Apple Watch, which will allow you to trade, right on your wrist.
On the same day the watch launches, you'll immediately be able to do the following:
• Spread bet, trade CFDs, and buy and sell stocks

• Get iPhone app notifications on your wrist

• Open positions and view markets from your watchlists

• Open, edit and close positions, or see all open positions

• See upcoming financial events

• Use one-tap login and switch between accounts easily
In an interview with Ashley Cameron, the Technical Team Lead, we learn that despite the initial version of the app being ready to go, the plan is to listen to customer feedback, and integrate this data into later iterations. The team has a very short two-week release cycle, so they will be able to tailor the experience as close as possible to what their clients want, in as short of a timeframe as possible.
"Based on what we think they've got, we think we're miles ahead of the curve. We think we have something truly unique as an offering for the Apple Watch, which is why I am so excited about having this for launch. It's such an in-depth experience, being able to trade directly on your wrist like this, leveraging IG's trustworthiness and technology. It puts us at a level ahead of our competition and from what we've heard, we think they're going to have to play catch up for quite a long time."
You will need to have the IG application installed on your iPhone in order to use the one on the Apple Watch, since it'll access the web though your phone. And although you can access and close any open position fully or partially, as well as see its profit or loss and any stops or limits, you won't be able to set stops and limits. This functionality, like many others, may be enabled in a later release