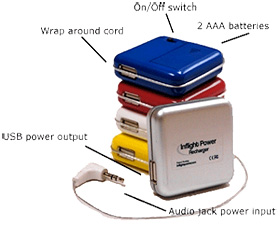 By Andrew Liszewski
This seems to be one of those gadgets that's better in theory than in practice. The Inflight Power Recharger supposedly allows you to recharge any USB powered device when all you have access to is a headphone jack either on a plane, train or bus. The small device works like a 'charge pump' which stores the low voltage from the headphone jack in a capacitor and then converts it into regulated USB power. While it may take a bit longer to recharge your gadgets with the Inflight Power the idea is it's better than nothing.
Unfortunately though the folks at Wired's Gadget Lab actually tried the device out on both a 757 and an A320 while traveling and both times it didn't work as promised. Only when using a special test tone provided by the manufacturer that was playing off an iPod did it actually work and provide sufficient power through the USB connection. So it's not surprising then the Inflight Power also holds a couple of AAA batteries that will boost the power from a headphone jack or will even recharge your toys if no jack is available.
The Inflight Power Recharger is available directly from their website and depending on what adapters you get it ranges in price from $34.99 for the base unit up to $49.99.
[ Inflight Power Recharger ] VIA [ Wired's Gadget Lab ]