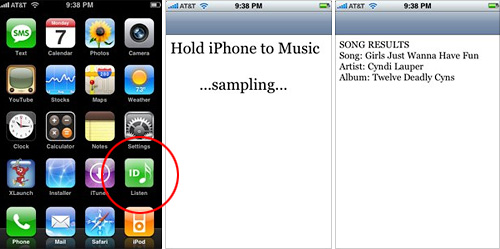 By Andrew Liszewski
While my iPhone has been 'liberated' I haven't installed much in terms of 3rd party software. But this new application called Listen, from iPhone super hacker Erica Sudin is pretty tempting. After starting the program you simply hold the iPhone's microphone near your TV, radio or other source of music. After sampling the tune for 5 seconds, the program contacts an ID server and if successful, will display the name of the song, the artist and the album.
Just keep in mind that Listen is currently "very beta" and I've seen reports that the application put some user's iPhones into recovery mode after successfully recognizing a song. But those users seem to be in the minority, and from what I can tell the application works surprisingly well so far.
You can download the Listen beta directly from Erica Sadun's website.
[ Test Request: iPhone Audio recognition ] VIA [ The Unofficial Apple Weblog ]