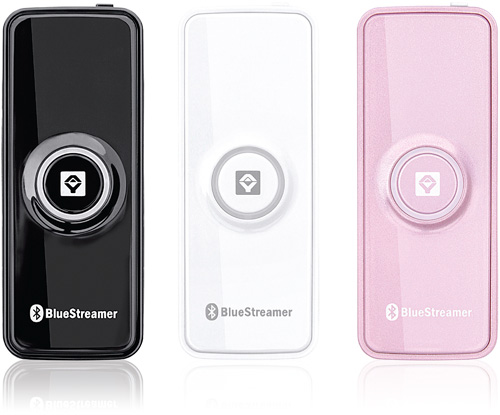 By Andrew Liszewski
First off, let me say I really hate this trend of including 2.5mm headphone jacks in phones. I know it's smaller and makes for a thinner device, but having to carry an adapter so you can use a standard pair of headphones is a pain. And I won't even get into having to use proprietary connections like Nokia's Pop port either. So as an alternative I've been hunting for a simple bluetooth A2DP adapter that would allow me to use a standard pair of headphones and keep my phone buried in my pocket.
Unfortunately finding such a device hasn't been easy. I've managed to stumble across a few, but the headphones are usually built-in meaning I can't just plug in my own pair. However the JAYS BlueStreamer2 looks to be exactly what I'm after. Not only is it small (it weights just 12g) but the rechargeable battery works for up to 5 hours while listening to music. It's also able to remotely control your phone's music player including volume, next track, skip forward etc. as long as the phone supports that functionality. It can even be used to answer those annoying phone calls that come in when you're trying to enjoy your music.
At around $80 the BlueStreamer2 is far more expensive than a 2.5mm to 3.5mm headphone adapter, but the added functionality and convenience might be worth the cost.
[ JAYS BlueStreamer2 ] VIA [ Crave ]