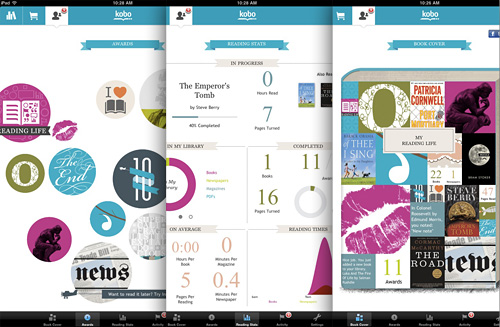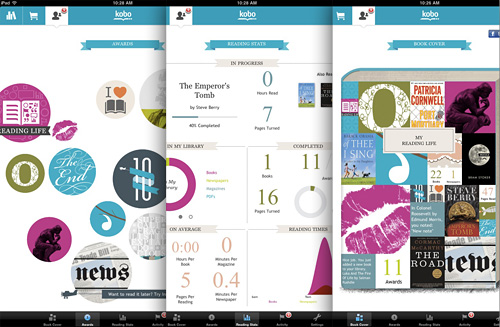 By Andrew Liszewski
In a few days they'll be celebrating their first birthday, but Canadian-based Kobo has already done quite a bit to shake up the ebook industry. After it was released, their $150 eBook reader basically forced their competition to drastically lower the cost of their own hardware to a similar pricepoint. And I wouldn't be surprised to see others copying what they're now doing with their eBook apps.
Last night we had a chance to check out Kobo's recent update to their iPad app (it went live as of yesterday) which now includes, in addition to a few other improvements, a section they call 'Reading Life.' In a nutshell it adds elements of social media that you typically don't associate with reading books. But I think they could really catch on. One of the more obvious features is the ability to share what you're currently reading via Facebook, including favorite passages. And if you miss having a bookshelf full of tomes you can show off to your friends, the personal book cover, which is composed of a collage of titles in your collection, can also be shared if you're dying to impress people.
The Kobo app also now includes unlockable achievements and awards for reading. Like 'The Twain' if you read on a daily basis or 'The Witching Hour' if you tend to read late into the night. And each of those comes with a little badge or icon you can collect. The company has also been adding check-ins to select titles which are kind of like easter eggs hidden throughout a book. So for instance the first time you discover the rabbit hole in Alice In Wonderland you'll be able to check-in there, and of course let everyone know you did via Facebook. And last but certainly not least is extensive statistics tracking for you obsessive types like how many books you've read, your average reading speed, pages turned and what time of day you read the most.
I've included the full press release after the jump if you're interested, or you can just download the free iPad Kobo app and try it out for yourself. The new features will be rolled out to other platforms in the coming months including their actual eBook readers eventually, though in a limited fashion of course.
[ Kobo Books ]
KOBO™ MAKES eREADING SOCIAL WITH READING LIFE
Industry First eReading experience with Achievements, Check-Ins, and sharing on Facebook
TORONTO, ON —December 9, 2010— Kobo, a global eReading service where users can read on any device anywhere in the world, today announced the launch of Reading Life, an industry first social eReading experience. Readers can now track their personal reading history, check-in with characters and places inside books and earn achievements and awards for simply reading. Readers can also choose to share books, favourite passages, awards and more with their friends on Facebook. Kobo Reading Life is initially available on iPad, as a part of the latest iPad update in the iTunes store now.
"People who are making the switch to eReading and building their lifetime libraries want an innovative social experience to go with it," said Mike Serbinis, Kobo CEO. "eReading is going social, local and real-time with Kobo Reading Life, allowing us to create a fun, engaging and meaningful experience for our users."
Kobo Reading Life for iPad provides an unparalleled experience that enables users to engage in eReading in new ways, connect with friends, and earn awards just for reading.
Sharing Books and Passages: Users can tell their friends what they are reading or highlight favourite passages in books they are reading. This is a great way to get a book club started, or update your bookclub friends as you read.
Statistics: Users can track their reading life with interesting statistics, including how many books they've read, pages turned, how fast they read, and times of day they read. Statistics help users track their progress, earn awards, as well as discover and learn about their own reading styles and preferences.
Activity: An activity panel shows the timeline of a user's reading life, highlighting important events and milestones. Users have an at-a-glance view of their reading life, including new books opened, read and finished, passages shared, awards earned and more.
Check-Ins: Another ground-breaking feature called Check-Ins, enables readers to check-in with characters and locations inside books, enabling them to mark important milestones and win awards. For example, readers reading Alice in Wonderland can check in with or meet Alice for the first time, or check-in to the Rabbit Hole and tell their friends on Facebook.
Awards and Rewards: Readers can unlock fun and surprising awards that celebrate achievements in their reading life. Awards like 'The Papillion' which is earned by the power social sharers, 'The Twain' earned by those that read daily, and 'The Witching Hour' for readers who read into the wee hours of the night – once an achievement has been earned the reader can than publish and share with friends on Facebook. Award winners can also be rewarded with special offers from Kobo or its partners, just by reading!
Personal Book Cover: As your personal Reading Life evolves Kobo creates and automatically updates your own personal book cover – a mosaic of your reading life that you can easily share with your friends on Facebook.
"This is truly a celebration of reading—not about individual books, but about a person's entire reading life," said Mike Serbinis, Kobo CEO. "This goes far beyond sharing titles, but sharing experiences in a fun and social way."
Today, Kobo has customers in over 200 countries & territories worldwide. The Kobo store offers a selection of over 2.2 million eBooks, with titles ranging from the NYT bestseller list, the hottest new releases, thrillers, romance and more. Plus, Kobo also offers access to the most popular newspapers and magazines. Since its launch in 2009, Kobo has been dedicated to an open cloud-based platform, enabling users to read on any device, and with open standards that give users freedom to build their lifetime libraries as they choose. Kobo users can download free eReading applications at www.kobo.com for most smartphones, netbooks, tablets, desktops and macs. Kobo also supports a wide range of dedicated eReaders like the Sony eReader and Nook, and has partnered with device OEMs like Samsung and RIM. The popular Kobo Wireless eReader, an eReader for everyone, is available in stores around the world such as Walmart, Indigo Books & Music, Borders, Angus & Robertson, Whitcoulls, and Swindon.
Kobo Reading Life is now available for download for free from www.kobo.com or the iTunes App Store. Customers who currently have Kobo on their iPad can download the update directly on their device.
A video demonstration of Reading Life can be found at: http://vimeo.com/17575879
About Kobo, Inc.
Kobo is a global eReading service backed by majority shareholder Indigo Books & Music, Borders Group, REDgroup Retail, and Cheung Kong Holdings. Kobo believes consumers should be able to read any book on any device. With a catalog of over two million eBooks, magazines, newspapers and an open platform, Kobo enables retailers, device manufacturers and mobile operators to bring the joy of eReading to customers everywhere. For more information, visit www.kobo.com.