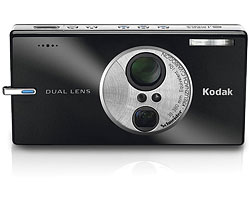 Ever want to send pictures from your digital camera to your computer wirelessly? How about sending your pictures to your printer with one press of a button? Kodak just recently unveiled their newest digital camera, the EASYSHARE V610 Dual Lens Digital Camera which features Bluetooth technology.
As long as the camera is within 30 feet of other Bluetooth devices, the V610 will transfer the images wirelessly. You will be able to instantly send your pictures to your cell phone, PDA, laptop, Bluetooth printing kiosks and any Bluetooth printer. Bluetooth is a great feature for a digital camera. How frustrating and time consuming can it be after you take a picture, hook it up to your computer, upload the files, and then either print it or send it to someone else?
Some features of the V610 Bluetooth Digital camera are 10x optical zoom, Kodak RETINA Dual Lens technology, Bluetooth 2.0, 2.8 inch high resolution display, 6.1 Mega pixels, anti-blur technology, and picture enhancing features.
The EASYSHARE V610 will start shipping May 8th for $499.95.
[EASYSHARE V610] via [Bluetomorrow.com]