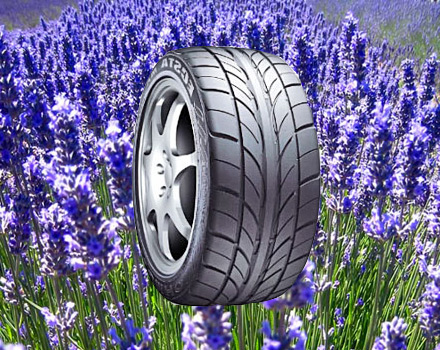 By David Ponce
We never thought we'd see the day where tire manufacturers would target women with lavender scented candles. But that's what they did just a couple of weeks ago. Kumho recently announced the release of the world's first "Aroma Tire" that replaces the normal ?black rubber? smell with heat-resistant oils in the scent of lavender, and in later versions, neroli (orange) or jasmine. The tires are aimed at women who drive cars such as the Honda Accord, Toyota Camry, Subaru Outback, Chrysler Sebring and Ford Taurus.
We're not entirely sure when this aroma will be released in sufficient quantities through regular use (how much rubber do you burn off just by driving down the road?), so the real-life application of this product makes you wonder: will the ladies have to pull donuts in a parking lot? Or will you have lavender scented car wreck scenes?
Whatever the case, the tires are expected to cost between $120 and $140, and are going to be available in Q1 of 2007.
[Kumho Press Release ] VIA [ SciFi Tech ]