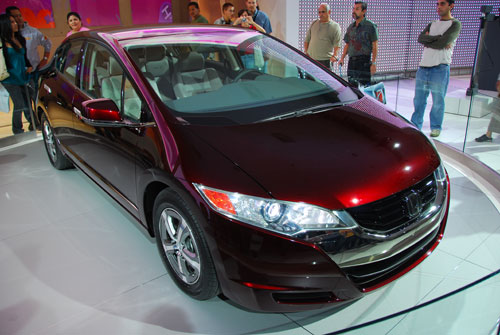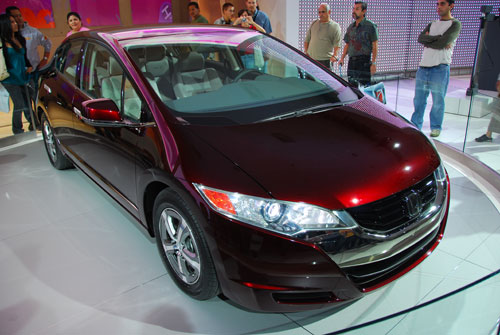 By Evan Ackerman
Hybrids are the current consumer automotive buzzword when it comes to fuel efficiency, and they were everywhere at the 2007 LA Auto Show. So, I'm not really going to talk about them, because we're looking forward, to what's so brand new that, in some cases, it's borderline impractical (albeit a step in the right direction). The most promising car (in the immediate short term) that I saw unveiled at the show perfectly illustrates what I mean: it's the FCX Clarity, by Honda, and it's powered exclusively by hydrogen.
First, the good news: the FCX Clarity is a production car. Want one? If you live in the LA area, you've got a shot at the first batch of leases in the summer of 2008 for a mere $600 a month. That even includes maintenance, which is good, since I somehow doubt your local garage knows how to handle a car like this. The Clarity runs on pure hydrogen, combining it with oxygen in the atmosphere to generate electricity to drive the wheels. The only exhaust is pure water. It gets an equivalent 68 mpg on a 5,000 psi hydrogen tank that gives the car a range of 270 miles. According to the rep, the high pressure tank has been crash tested extensively and is perfectly safe (although that's a lot of compressed explosive gas under the back seat, if you ask me).
So, why only the LA area? That's part of the bad news; LA is one of the few places with hydrogen fuel stations (I think there are about six). Recognizing this, Honda has also introduced a Home Energy Station, which is able to convert natural gas (the stuff that may heat your house or run your stove) into enough hydrogen to fuel your car on a daily basis, while at the same time providing enough electricity to power your house. Oh, and it provides heat, too. Honda wasn't able to provide much in the way of specific information about the Home Energy Station, although a commercial launch is rumored to be on the way within a few years.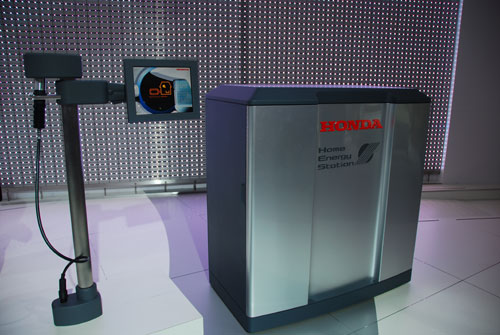 I give a lot of credit to Honda for introducing a production hydrogen fuel cell car into a world that, infrastructurally, just isn't quite ready for one. If they can get their Home Energy Station technology out into the commercial market for a somewhat affordable price, it'll help things immensely, since there IS an existing infrastructure for natural gas. The general public first has to get comfortable with the technology, and then be willing to pay for it, and Honda is doing their level best to make the transition as easy as possible.