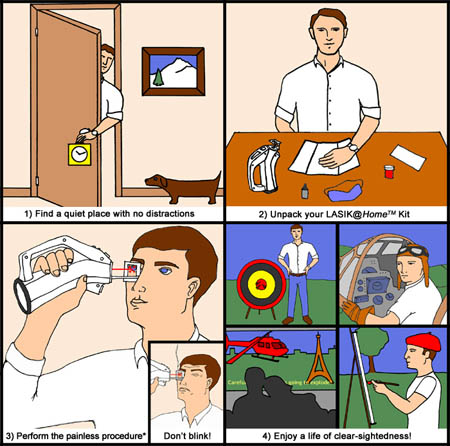 By David Ponce
The strangest thing is that this guy doesn't look like he's joking at all. He's for real! He's actually, really selling an as yet FDA-unapproved do-it-yourself Lasik At Home kit. As in, laser eye surgery, at home.
By yourself.
Yeah, it's crazy, no? So, for about $100, you can buy this kit that includes the Scal-Pal? (as in, the Scalpel, your pal?), go home, and in four easy steps (Oh, the humanity!), cut a flap of your cornea, and reshape your lens in the comfort of your own bedroom.
The kit comes with
* Scal-Pal? Hand-Operated Combination Femtosecond/Excimer Laser
* Mild sedative (diazepam 4mg)
* No-Blink? brand Eye Drops
* Detailed Instructions and QuickStart Guide
* Protective Post-Op Sleep Mask
The site includes all of three (positive) customer testimonials, a surefire way to induce trust.
And of course, the whole thing could just be some elaborate hoax. You decide.
[Lasik At Home] VIA [Digg]