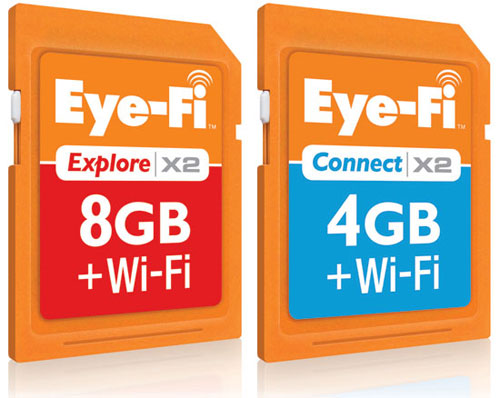 By Evan Ackerman
The Eye-Fi Pro X2, which debuted at the beginning of this year, offers "endless memory" by deleting pictures off of itself after wirelessly uploading them to your computer and/or online photo storage service using built-in 802.11n WiFi. Not unexpectedly, such a useful feature isn't cheap, with the 8 gig Eye-Fi Pro X2 costing a staggering $150.
Eye-Fi has just released two more SD cards in the X2 series with the endless memory feature, the Eye-Fi Connect X2 and the Eye-Fi Explore X2. The Connect X2 holds 4 gigs of stuff (not like it matters that much with the endless memory), while the Explore X2 is 8 gigs and includes lifetime geotagging of dubious quality and a year of hotspot WiFi access. The best news is that the Connect X2 is only $50, which is way more than a regular 4 gig SD card but way less than the $150 Pro X2 or even the Explore X2, which costs $100. If you don't have an Eye-Fi card yet, the Connect X2 is definitely the one to get. If you're looking for justification to upgrade to the Explore X2, if you travel a lot, Eye-Fi would also like you to know that their WiFi hotspots now include Starbucks and BP gas stations.
Incidentally, at CES Eye-Fi told me that the card's ability to delete pictures off of itself is a hardware thing, not a software thing, so it's not something that they can add to older cards with a firmware update or something like that. Sad, but sometimes, that's the way the cookie crumbles.
You can find Eye-Fi cards at Best Buy, Amazon.com, Adorama, and B&H among other places.
[ Eye-Fi ]