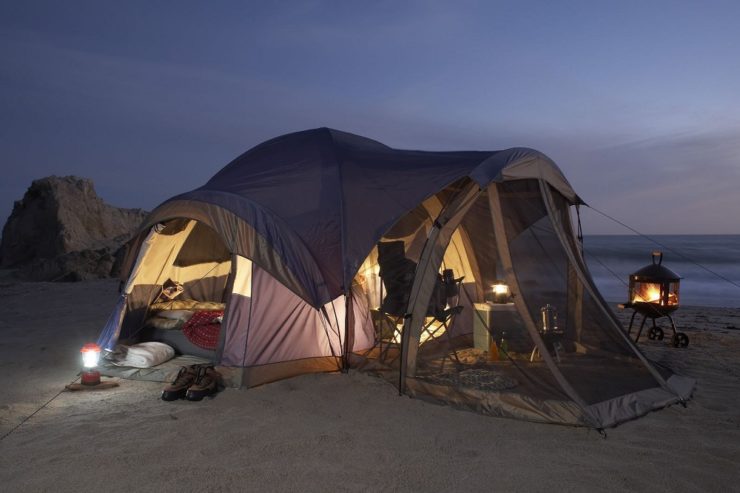 A new tent is a great addition to exciting vacation plans, a resolution to get outside more, or a replacement for an older, heavier version. If you're in the market for a tent, we have two ideas for you. First, check out the best tents of 2017 to see what the market can offer and how much these top-line tents cost. Second, review the features of the best camping tents so you know exactly what to look for when buying.
Signs of Easy Setup
It's difficult to glance at a picture of a tent and see how easy it is to set up, unless you are very familiar with the design already. It's tough to tell even when looking at a tent in the store. Still, here are a few positive signs that I've found really matter when it comes to tent-building:
Color codes: Coding the poles and canvas with the proper colors so they can be easily matched is a godsend, especially if you are setting up a tent with strangers or family – people who may need a little extra help.
Sleeve guides: All quality tents should have sleeve guides for the poles, a common-sense addition. However, there are good sleeves and bad sleeves – sometimes short, minimalistic sleeves are best, especially for smaller tents.
Only a few (connected) poles: Modern tents are generally excellent at providing only a few poles in a simple design (crosshatches are common – and welcome – choices), so getting a new tent is a good idea. The poles should be lightweight and connected via nylon or a similar material.
Weatherproofing
Weatherproofing should vary based on why you want a new tent! If you are interested in a summer tent, then nylon mesh windows and a mesh cover are vital for keeping bugs out but letting air pass through. Storm flaps are important for bad weather, and if you are camping in the rain or on wet ground, look for water-resistant finishes that force water to run off the tent. Finally, think carefully about the floor. Camping on the ground usually requires a thick floor covering for proper protection. If there's a chance that you'll be camping on wet ground, then consider folding in an accessory tent floor mat that you can lay down for added warmth and protection.
Spacing
Pay close attention the square feet descriptions of any given tent – and remember that square are usually less than you imagine. About 30 square feet is enough for two people to squeeze into a tent, but not more than that Also, pay attention to any descriptions of a "vestibule" which is typically a partially-covered section of the tent near the door to keep shoes, muddy clothes, and so on – it adds valuable space without a downside. Finally, look for specifications that describe how high the tent is at its highest points, which can give you a good idea of the inner size.
Storage and Door Options
Do you want one door, or two? How big does the door need to be? We already mentioned how useful vestibules can be, but some tents go a step further and add a whole "porch" with an overhead covering that adds extra shade for sitting near the tent (window coverings can also be used for this purpose). Also look for any information about the inside of the tent. The best tents usually include mesh storage pockets along the walls for personal belongings, a benefit not to be underestimated, especially on longer trips.
Weight
Weight may not matter at all – if you are heading to a campground with a pull-in parking spot, for example. Or weight may matter a lot – if you are backpacking solo on the PNW trail, for example. So if necessary, check the weight. Around 4-5 pounds is a nice average weight for a tent that's big enough for a couple of people without being too heavy. Many tents also give two different weight, one weight with all the unnecessary accessories taken out to reduce weight for serious backpacking.