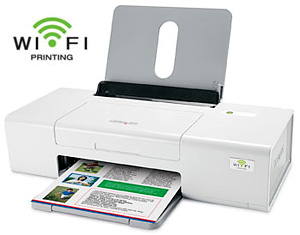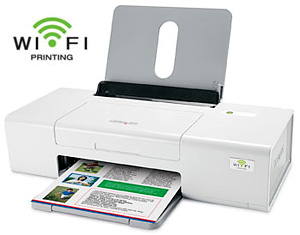 By Andrew Liszewski
While Lexmark has never really taken any 'best in class' awards when it comes to printers their hardware is relatively cheap which is what a lot of people look for. So it's no surprise that the company is one of the first to provide a truly affordable model with built-in wifi for wirelessly sharing the printer among multiple computers.
The Z1420 uses 802.11g which should make it compatible with the average home wireless network but it also has a USB connection for hooking directly to a wifi-less computer when needed. It can print up to 24 ppm in black and 18 ppm in color but when printing at the max resolution of 4800×1200 on glossy paper don't expect it to be quite as fast. And from what I can tell it also uses a single color cartridge which kind of sucks since the whole thing needs to be replaced when one of the colors runs out.
But if you need a cheap wireless printer you probably can't beat the Z1420's $79.99 price tag.
[ Lexmark Z1420 ] VIA [ Chip Chick ]