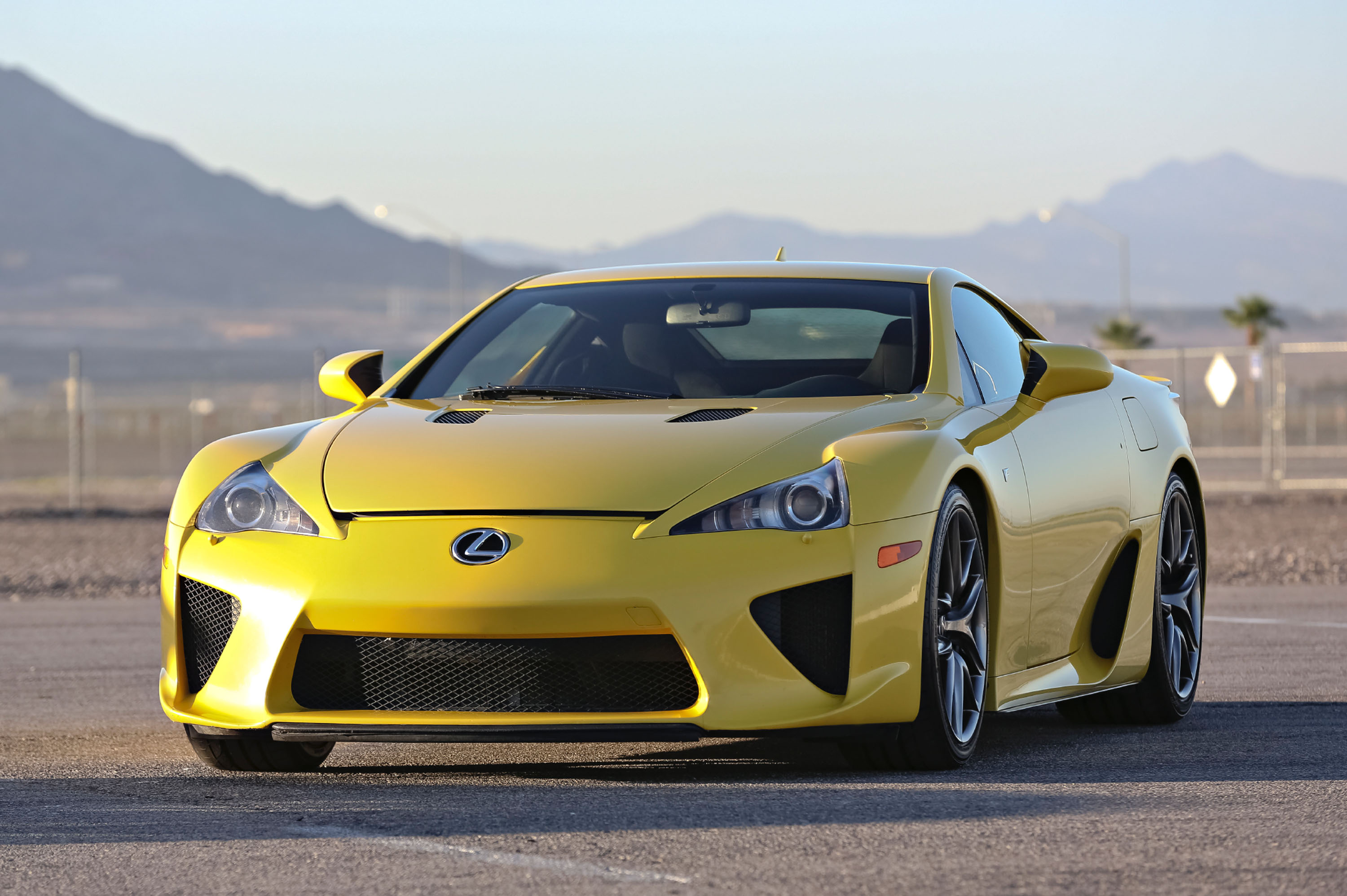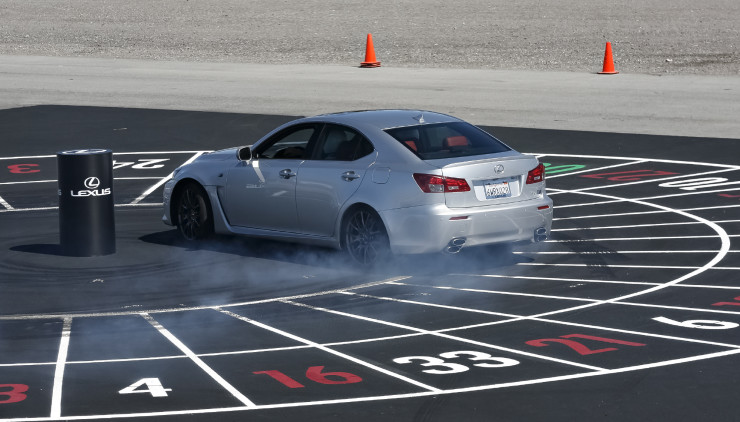 A few days ago OhGizmo! was invited to spend some time in the scorching desert of Nevada, in a calm and quaint town known as Las Vegas. Lexus had rolled out their 2014 lineup for us at the Las Vegas Motor Speedway, bringing out all the F Sport cars they thought we'd be interested in looking at. Why? Because they wanted us to experience the difference between a regular Lexus vehicle, and one that has received the F Sport treatment. Compare and contrast, you know?
For years Lexus has been known as a luxury brand, one that makes cars that businessmen want to drive, and sensible women love to own. It's a reliable brand and it's an elegant brand. It speaks of refinement. But it's also a brand that rarely shares space with adjectives like "sporty", "exciting", "fast", and "jaw-dropping". Well, it turns out that the company's F Sport division has been hard at work, pushing the engineering envelope and developing a sportier, racier dimension to their craft, available to almost every Lexus vehicle in one way or another. Apparently, the elegant and stately cars we've known for years are more than capable of showing some teeth, given the right treatment. In this article, we're going to go over a few of the highlights from our day at the track, to give you an idea of what the F Sport name means in a Lexus vehicle.
The Approach
There are three levels of F Sport performance at Lexus. You can buy two standalone cars, the LFA supercar and the IS F, built from the ground up with racing performance in mind. Or, you can opt for an F Sport package (in the CT 200h, IS 250/350C, IS 250/350, GS 350, LS 460, RX 350) which provides you with factory tuned performance. And finally, you can go the piecemeal approach, which allows you to purchase F Sport Performance Accessories one at a time, to tune your car at your leisure while still retaining factory warranty. The end result is choice: the choice to soup up your Lexus car all at once from the ground up, or piece by piece as you see fit.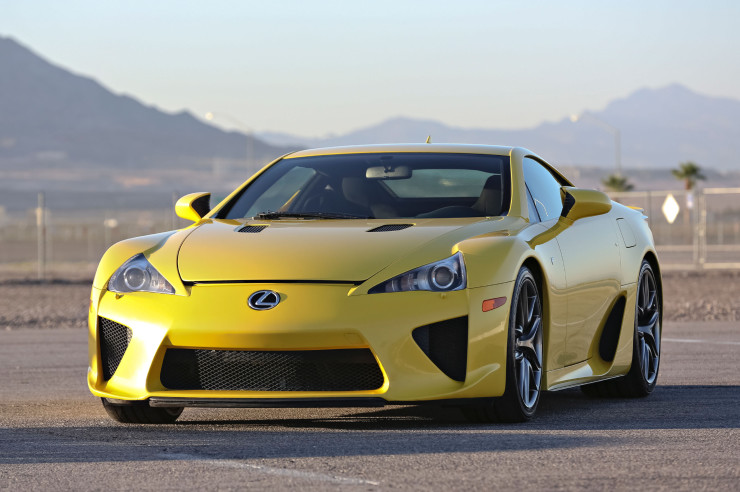 So where does Lexus get its expertise? How does it develop these performance parts and packages? Well, like many other car companies, this development work is done by pushing the edge of the company's technological know-how, in the course of bringing a supercar like the LFA to market, for instance. The LFA is hands down one of the world best performing, road-going vehicles. And everything the company learned in the making of this car then trickled down the F Sport division to find its place in one form or another in an F Sport car.
Just think of the fact that the LFA has had its exhaust tuned by Yamaha's music division in order to get one of the best sounding roars in that category of vehicles, and you'll get an idea of the level of attention to detail that's gone in its making. Hearing it go round the track was like hearing a slightly quieter F1 car go by. The carbon ceramic brakes were able to slow down a 4.8-liter V10 vehicle that generates 553 hp (412kW/560DIN hp) and 354 lb-ft (480Nm) of torque without fading or overheating. The carbon fiber reinforced plastic (CFRP) used throughout allowed them to shed so much weight that the LFA achieves a 6 lb/hp power to weight ratio, firmly in supercar territory. Frankly, sitting in the passenger seat as Scott Pruett (a Daytona racing legend) took it round the track, it was next to impossible to wipe a grin off all our faces.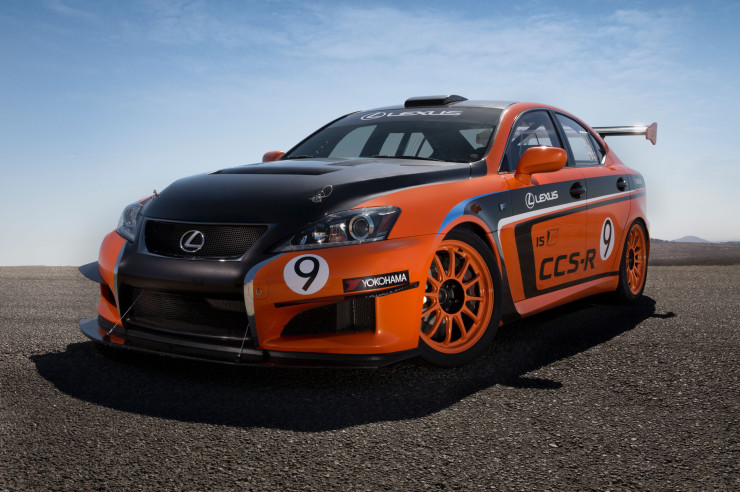 And what of the Lexus IS CCS-R, in which we also got to sit? That's the fully modified IS F that was used by Ken Gushi in the 2012 and 2013 Pikes Peak International Hill Climb. Under the hood was a "race tuned IS F 5.0-liter V8 with SFI D-4 direct-to-cylinder injection with secondary port injectors", yes the same engine found in the regular IS F. But this was an honest to goodness race car and going around the track in it was an eye-opening, life-altering event. The raw power exhibited by this vehicle was only exceeded by it's mind-bending ability to slow down. Some journalists were so taken aback by its agility that their lunch decided to make an unrequested second appearance.
Strapped in with a five-point harness, arms and feet dangled about as turns were taken at speeds that would have made a regular person very, very afraid (yes, that means me). Hot air was constantly blown onto our feet from normal gaps in the firewall, and dust and dirt swirled about the cabin. The air was thick with the smell of fuel and oil. It. Was. Awesome.
Now, running around in fancy racing cars and exotic six-figure dream machines is all fine and well, but how does work on these cars translate into vehicles regular people can buy?

The flagship IS F is the easiest way to get into the full F Sport experience, at least until the end of this year when Lexus strangely decided to stop making it (that's right, there's no 2014 IS F). Edit: The 2014 model year IS F is a carryover and Lexus has not yet announced if the IS F will be updated any time soon. It is however, still very much available for purchase beyond the 2013 season. The IS F engine is shared by no other Lexus car, and the 5-liter V8 generates 416hp for a 0-60 time of around 4.2 seconds, which is plenty fast. More importantly than the numbers perhaps (since, let's face it, you probably won't be racing it) is just how great it feels. The 8 speed direct-shit transmission is eager to hop up or down, prodding the exhaust to make some delightful sounds as it goes. Especially entertaining is the quick burble as you downshift and the engine blips the throttle. The bass-heavy engine sound appears to be piped back into the cabin once you reach a certain RPM, and this only adds to the experience. Really, the IS F is a fun car to drive and gives the BMW M3 a good run for its money.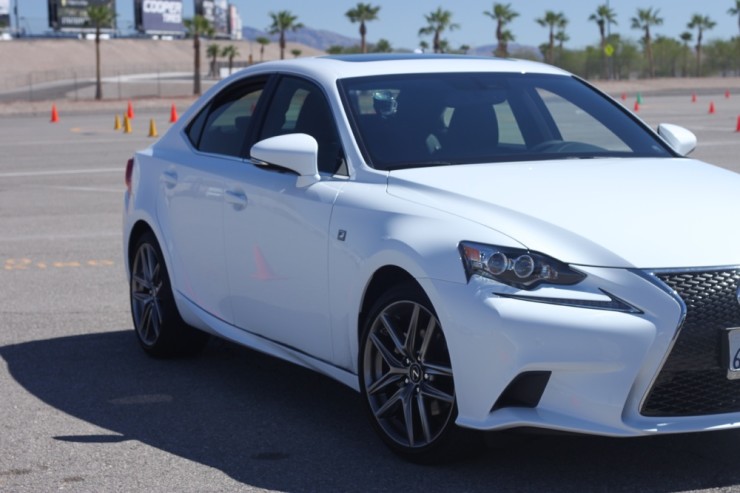 The F Sport Packages
However, a $60k+ sport car isn't for everyone. Instead what you can do is opt for an F Sport package, which gives you a variety of perks depending on the vehicle you choose. These are just some of the things you can get: larger and sportier wheels, upgraded brakes, F Sport tuned suspension, Adaptive Variable Suspension, spoilers, paddle shifters, upgraded instrumentation, F Sport badging and branding throughout… The idea behind it all is to upgrade both the look and feel of the cars, so that you can't mistake being in a sportier version of any given vehicle. And… does it work?
Yeah, we think so. The adaptive variable suspension in particular does a great job of firming up the ride at the touch of a button. An electronically actuated valve in the shocks dynamically adjusts the flow of oil, stiffening or loosening the ride as needed, based on input from multiple sensors. We tested the cars in both Sport and not-Sport modes, and the difference is unmistakable. There's less roll and the car stays more planted in tight turns. The throttle response also seems improved, as well as the engine sound. The interiors are worked on with great care and we never felt like we were sitting in a non-sport car. Again, what exactly is included in your package depends on the model car you pick, and every F Sport package will do things differently. It isn't, however, an imaginary or purely aesthetic improvement.
In Conclusion
Now let's be clear on this. We're not saying that the cars will go faster, we're saying they'll feel and look sportier. Some things will perform better, such as stopping distance or resistance to brake fade for those cars with upgraded rotors and pads. But you're not squeezing more horses out of the engines. And that's fine. For a bit more money than the standard car, you get to kick things up a notch, all the while retaining Lexus' warranty. That sounds like a good proposition to us. Having had the chance to experience first hand just what these packages do, we'd say it's money well spent.
And if the packages are still too much money, or you don't like the idea of paying for things you don't want, you can get the parts separately, directly from Lexus. Considering the current success of the aftermarket, uh, market, it stands to reason there'd be a demand for warranty-approved performance parts, and Lexus is trying to deliver on that.