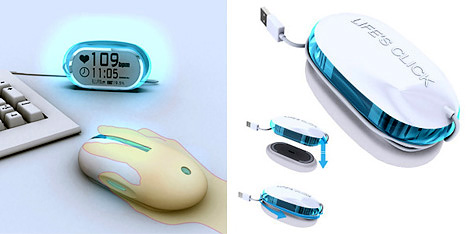 By Andrew Liszewski
Designed by Chiu Chi Tat and Tsoi Man Hei the 'Life's Click' mouse has two sensors located where a user would typically place their thumb and palm while using it. These sensors allow the mouse to measure the user's health and keep track of vital stats anytime they're using the computer.
The Life's Click mouse also includes an LCD display for constantly showing info like the user's heartbeat and other interesting health-related facts they would probably prefer to hear from a doctor. And for users who require special care the vital stats from the mouse can be sent out to doctors or caregivers and used as a remote way to check up on the patient.
While the mouse itself is wireless it requires the LCD display to be connected to the PC via USB and serve as a receiver. But the two can connect together for easy transport and storage making them ideal for laptop use as well. Unfortunately like everything else that only has overly stylized 3D rendered product shots the Life's Click mouse is only a concept at this time and isn't available for sale.
[ Life's Click Mouse ] VIA [ The Red Ferret Journal ]