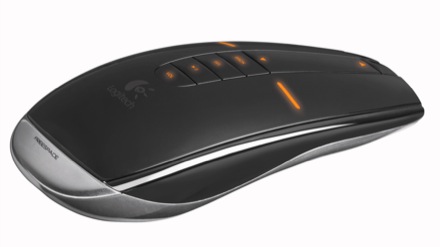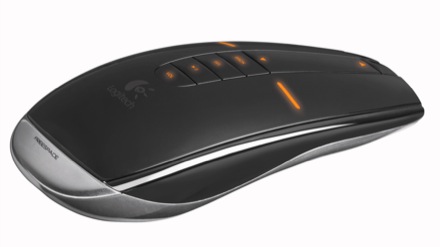 By Evan Ackerman
No, it's not a concept. This is the production model of the Logitech MX Air mouse, a dual mode laser gyroscopic mouse. Excuse me while I pick my jaw up off the floor. This mouse is built of beautiful curves accented in black and chrome, but it doesn't have to rely on its looks to win your heart… On your desk, it works as a conventional cordless laser mouse, but pick it up, and its Freespace motion control technology lets you mouse in midair from up to 30 feet away. The Air Mouse includes built-in support for midair mouse gestures; for example, to increase the volume on your computer, just push the volume button on the mouse and flick your wrist to the right. It's got a bunch of backlit media on top along with a touch sensitive scroll pad, and an integrated rechargeable li-ion battery.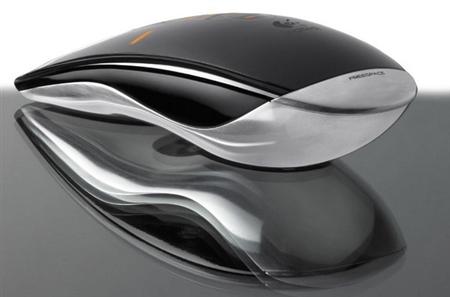 Now, I do (of course) have some legit quibbles with this piece of candy… Firstly, it's targeted at the PC home theater market with a dedicated play/pause and volume buttons. Although the buttons are programmable, I would have preferred a more standardized layout, especially with forward/back buttons along the sides of the mouse. The scroll panel is cool, but I prefer the utility of a ratcheting scroll wheel. Also, there's no on-mouse control over the responsiveness of the gyroscopic action, which may make it hard to do midair precision work. And finally, the charging dock is AC powered (as opposed to USB), and the RF receiver is a separate USB unit. That's, like, two separate things that have to be plugged in.
But still, the $150 for the MX Air is an amount of money I am seriously considering putting down when it becomes available (in the US and Europe) sometime next month.
[ Logitech MX Air Mouse ] VIA [ Sci Fi Tech ]