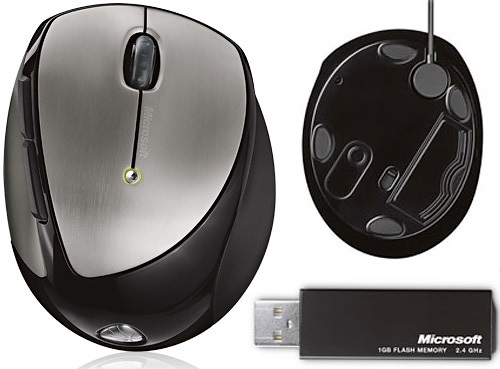 By Andrew Liszewski
A wireless mouse can be a great convenience, but there are some downsides that Microsoft is trying to address with their Mobile Memory Mouse 8000. First off, most cordless mice rely on a wireless receiver that takes up a USB port. While the MMM 8000 still relies on one, the receiver actually includes 1GB of flash memory allowing it to serve double duty. Just keep in mind that once you remove it to copy files to or from another system, the mouse stops working.
Another downside to cordless mice is that they rely on batteries that need to be replaced. The MMM 8000 however has a built-in rechargeable battery that can be recharged VIA USB. The mouse includes a special cable with magnetic connectors that attach to the receiver and the underside of the mouse allowing it to recharge whenever needed.
Personally, I would still go with the Logitech VX Nano and its ridiculously small USB receiver, but if you like the idea of always having an extra gig of flash memory handy you can grab the Mobile Memory Mouse 8000 for $99.95.
[ Microsoft Mobile Memory Mouse 8000 ] VIA [ Gizmag ]