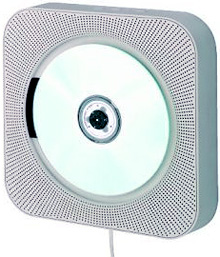 By Andrew Liszewski
I don't really think the CD player can be considered an antique as of yet, but given the price of this Muji wall mountable model it's clear some people do.
Taking a style over substance approach this CD player attaches to your wall with the CD itself being clearly visible on the front face. Great for showing off the artwork on the disc, until it starts spinning that is. The speakers are built into the body of the player and to start the disc playing you simply pull on the cord hanging underneath. Other controls like volume and search are located on top.
Given how basic this player really is I think the $199 Compact Impact is charging for it is a bit ludicrous. But if you still hold a soft spot in your heart for the compact disc format and hate to see those shelves and shelves of CDs go to waste then don't let me stop you from getting one of these.
[ Muji Wall Mountable CD Player ] VIA [ Better Living Through Design ]