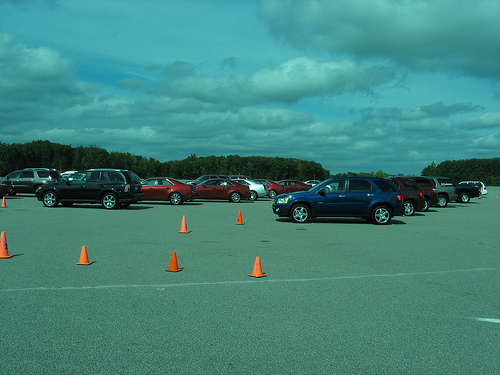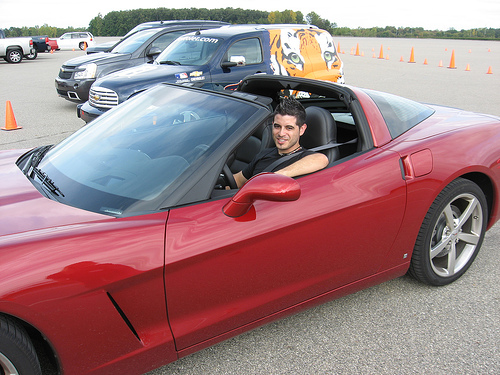 By David Ponce
When I got the email inviting me to Milford, Michigan to drive the 2008 GM lineup around, I thought it was a joke. But sure enough, it wasn't, and I'm happy to say, I haven't had this much fun in a while. I'll let you know what GM is up to in this article, and just what kind of fun we had, but first, a disclaimer: GM paid my way there, but all the opinions that follow are purely mine.
Other than a retelling of facts, what can you expect in this post? Well, there's a video, for one. It's me as a passenger in the 'vette, while it's being floored. Expletives ensue. Then I'll tell you about StabiliTrak, GM's version of traction control, as well as the surprise of the day: the new Saab 9-3. Oh, and a bunch of pictures.
The Grounds And The Lessons
The Milford Proving Grounds are legendary. Built in 1924, they're a 4,000 acre (2 miles by 3 miles) playing and testing grounds with every road condition and configuration available. They have their own fire department. And on September 26th, a small group of bloggers were invited for the day, the first half of which consisted of us taking security driving lessons which ranged from the lame (backing up in a straight line) to the white-knuckle inducing high-speed evasive braking. There was also skid control, which turned out to be more fun when failed (fishtailing and spinning) than when done properly.
StabiliTrak
After the lessons, we were given a demonstration of StabiliTrak, GM's trademark name for its version of electronic traction control. A large portion of accidents occur when inexperienced drivers initially lose control of their vehicle, and then overcompensate for this first loss of traction. What results is a car that skids left and right in increasing waves and eventually crashes. StabiliTrak sensors detect changes in yaw (the left/right orientation of the vehicle) and try to match this with its actual directional vector. When a discrepancy occurs, brakes are actuated in an effort to give the driver a few extra seconds of stability in which to regain control. Does it work? Sure. It's subtle, but it's undeniable.
They sat us two by two in a Buick Lucerne without StabiliTrak, and one with it on. The professional driver then gunned it up to 50mph, and proceeded to knock us around, yanking hard right then left and causing the car to swerve and screech. To be honest, when sitting inside the car, the difference is hard to notice. You're being thrashed about with a fair degree of force and, unless you're the one driving, subtle (but vital) differences in traction control are the last thing on your mind. I did however feel the brakes pumping in an effort to give the car control, so it's clear it's doing something.
Looking at the scene from the outside however, it's a whole other story. The car without StabiliTrak tended to enter into a series of swerves that were only brought back under control through the driver's skill and experience. The car with StabiliTrak briefly skidded left, then right, and was back on a straight course immediately. It's a comfort because I can assure you the road is full of people with much (much) less skill than these drivers, for whom even a little bit of help will go a long way.
Electronic traction control is mandated in all cars by 2012, GM is trying to beat this by one year. It's already a standard feature in some of its models, and an option in others.
Ride and Drive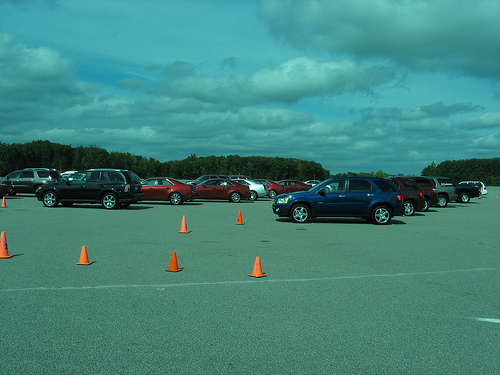 After an opulent catered lunch (Braised short ribs? These guys know how to live!), it was time for Ride and Drive. The GM people parked most of their 2008 lineup just outside one of their buildings, left all the keys in the ignition, and told us "Pick any, and go have fun!" You didn't need to tell me twice.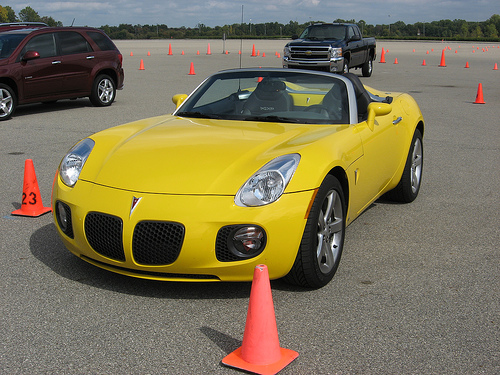 The Pontiac Solstice GXP
The Corvette was already out by the time I was able to tear myself away from the short ribs, so I decided to hop into the Solstice GXP instead. It comes with a 2.0L, 260hp VVT engine. The transmission is smooth if a little finicky: I stalled it immediately. I chalked that up to my lack of experience in a sports car, and it never happened again.
The engine is remarkably strong, and coupled with the car's low weight, made for a robust ride. The suspension is adequate, if only a little stiff. Of course, that's normal in this class. One thing that's new in the 2008 Solstice is the addition of a cupholder in the front. You may think this is a small detail, but it was a big problem in earlier versions which required you to twist yourself around: the cupholders were placed between the two seats, behind you!
The inside paneling was pretty, but not quite as gorgeous as the Saturn Sky Red Line. That car is essentially the same as the Solstice, but the interior screamed luxury like very few other cars in the lineup, yet this is only a $30,000 car.
The 'Vette

I'm not going to spend long on the 2008 Corvette; a legend hardly needs any help from me. Driving one is an emotional experience, one that left me shaking and smiling for nearly half an hour.
A 6.2L LS3 small-block V-8 is the standard engine in Coupe and Convertible models. It is rated at 430 horsepower (321 kW) and 424 lb.-ft. of torque (586 Nm) with the standard exhaust system; with the new, optional two-mode exhaust system, power ratings increase to 436 horses / 325 kW and 428 lb.-ft. / 592 Nm. As a result, the standard Corvette is true supercar, capable of 190 mph. The LS3 with the six-speed paddle-shift automatic is the fastest automatic-equipped Corvette ever, with 0-60 mph capability of 4.3 seconds. VIA [ AutoBlog ]
The 'Vette we got was the 6-speed convertible. And man… aw, man. Words fail me. The sound of the engine. The crush of all that torque. The roaring wind… Driving will never be the same for me, and that sad box I call my car may as well be an '84 Lada.
If you want a good, thorough review, you should really hit this link.
The Saab 9-3 SportCombi

I expected the Corvette to be a nearly orgasmic experience. I did not, however, expect to enjoy a station-wagon this much! The 2008 Saab 9-3 SportCombi was the surprise of the day, for me. If you're a dad, and you want to be responsible, but aren't ready to give up on sporty performance, this is the car for you. A 2.8L, 255hp turbocharged engine ensures that you've got some kick. But more importantly than torque and power was the incredible driving experience. The transmission was as smooth as silk; you barely had to think about changing gears that you'd already flowed there, seemingly not even of your own accord. The steering was perfectly balanced, neither too soft or too harsh. The thumbrests on the steering wheel were a nice ergonomic touch. The suspension was smooth, and hard enough to corner aggressively. The roar of the engine muted and sophisticated, but undeniably sporty.
This Saab was a unique combination of elegance and performance, in an attractive package… even for a 26 year old blogger who fell in love with a Corvette.
The Cadillac CTS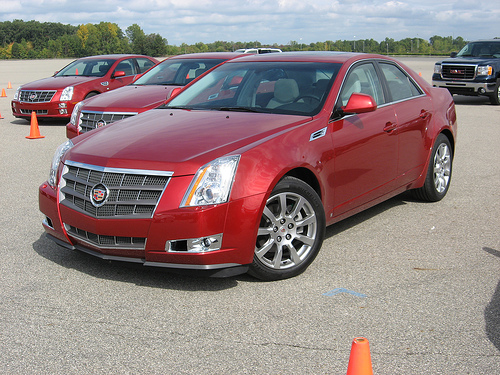 The new CTS features en enlarged grille. I think it looks awesome, if somewhat reminiscent of Audi's latest offerings. The inside is opulent, panels joining one another in flush, nearly invisible seams. The layout of elements speaks of careful design, and feature a very cool touchscreen navigation panel. You press a button, and the whole thing rises up from the dashboard, giving you access to not only GPS navigation, but XM radio as well.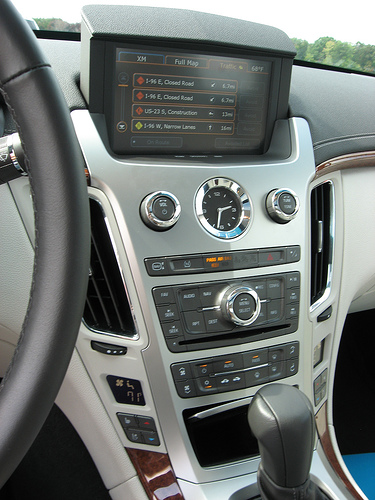 The CTS we drove features a 3.6L Direct Injection V6 VVT with 304 hp, which was plenty to propel this somewhat massive car forward at a decent clip, but certainly not something to give yourself a whiplash with. The Bose system sounded great, and the instrumentation featured more gadgets that you can shake a stick at. One impressive feature was the presence of a 40GB hard drive, which could be used as a music server. You can rip CD's directly to the drive, in one seamless operation. There is of course an iPod cable, with full interaction with the music player.
Even better than this is the ability to pause live radio, TiVo-style. You can record up to 60 minutes of audio, giving you plenty of time to go do some shopping and not miss the evening countdown!
Of all the cars I drove, the CTS is hands down the gadget lover's dream.
Conclusion
You can be sure there's lots that's missing from this narrative. There are so many cars I did not talk about, let alone drive. There were several hybrid models, for instance, a sign that GM is working hard to ease the burden of its products on the environment. But without getting philosophical, there's only so much GM (or any other car manufacturer) can do in the face of slowly changing consumer preferences. The strong presence of hybrid vehicles is great, and hopefully GM's inclusion of ever more appealing eco-conscious offerings will have some impact on buyer decisions.
Aside from that, I'd have to say that my trip to Detroit was a positive experience. While GM cars are unmistakably American, it turns out that the meaning of that word is changing. I noticed a maturing and a refinement of design that (while a little slow in coming), feels like a breath of fresh air. GM certainly needs some of that these days.
If any of you has questions, or would like to know more about any GM model, feel free to ask. Your requests will be fast-tracked right to GM's ears.