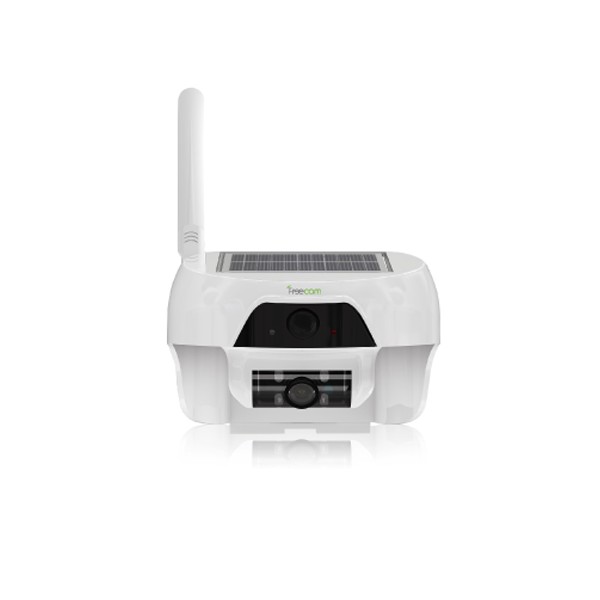 There was a time when wired security cameras and CCTVs were considered to be the only surveillance devices capable of monitoring home and work spaces. All that changed when wireless models were launched. Wireless spy cams spare you the trouble of setting up a complicated network of wires all around the place, instead, the cams have Wi-Fi integration that sends automatic alerts to your phone in case of any unusual activity. My search for an affordable and durable surveillance camera led me to iSmart C310 1 IR Wireless camera from https://www.surveillance-video.com . Let me share you my experience and overview of this pretty cool product.
It is very rare to come across a surveillance camera that is well equipped with all the latest features and advanced functionalities. Enter iSmart C310, an IR wireless camera model that works well both indoors and outdoors. With 1MP 2.8mm lens and solar powered batteries, the camera model has worked great for surveillance. Moreover, with cloud backup and Wi-Fi connectivity, I was able to easily share the footage online in a matter of minutes. C310 model turned out to be pretty easy to install and required almost no special maintenance.
iSmart C310 – Compact, Competent and Compatible
There is no dearth of options when it comes to spy cameras, each offering new and better features that promise advanced security and surveillance. However, nothing beats the efficiency of the simple but very solid iSmart wireless camera devices. I recently stumbled upon the C310 model with its lightweight, compact yet surprisingly sturdy design. It works on solar powered battery for greater durability and competence. I love the fact that it is an eco-friendly, power efficient option and comes with a lifetime warranty. Armed with a Micro USB port, a pair of 2.8mm 1-megapixel lens and powerful LED lights, the C310 camera captures crystal clear shots every time.
Specifications and General Features
iSmart's latest addition to the list, the C310 IR wireless camera is a powerful and easy to handle surveillance that has managed to deliver more than my expectations. Here I have encapsulated some of the primary features and technical specifications of the product:
– Product Dimensions: 7″ X 7″ X 8″ / 22″ X 14.2″ X 7.9″
– Resolution: 1Megapixel
– Lens type and size: comes with fixed 2.8mm lens
– Infrared Distance: I could capture images as far as 60 feet away
– Camera Signal and Connection: the wireless framework supports a Network IP connection
– Mount Type: I could easily place the camera in the corners and mount it on the wall
– Camera Usage: The body is scratch resistant, moisture proof and dust-free, you can use it both indoors and outdoors
– Comes with smart sensors for accurate motion detection, tracking and round about surveillance
– There are 4 LED lights fixed on the body for greater accuracy and color in the images clicked
– The auto gain control feature was again a smart addition to the camera, I could easily track objects and customise the zoom to my liking
– Supports audio. I could also record decent quality videos using the C310 wireless camera.
– The solar powered mobile Wi-Fi camera comes with internet connectivity and is compatible with all Android and IOS platforms.
– The wide 2.8mm HD lens can cover an area of 110-degrees horizontally giving you a bird's eye view of the place
– The PIR auto-start feature is another smart perk, you even receive instant alert messages on your mobile phone in case of some unusual activity
– The remote wake up powered by APP assists in faster motion detection and sending alarms
– The wireless camera comes with cloud and P2P support, I could save a lot many videos both online and on the in-built 16GB TF card.
Pros
+ C310 comes with P2P and cloud support and also offers an internal storage capacity of 16GB
+ The wireless camera offers Wi-Fi connection and can be synced with Android and IOS devices
+ The solar batteries can be charged via Micro USB port as well as leaving them out in the sun
+ The PIR automatic startup feature covers an area of 5 meters and sends instant alerts to the phone in case of any activity
+ The IP66 standard model is waterproof and scratch resistant, an ideal device for indoor and outdoor use,
Cons
– The C310 model lacks the flexibility and performance of a traditional wired CCTV
– The Wi-Fi network is often interrupted
– A bit on the expensive side
The Bottom Line
The alarming rise in the criminal activities only adds on to the urgency of getting wireless surveillance cameras installed in our personal and work spaces. The iSmart C310 wireless model is a great option for people who want to keep an eye on their surroundings without having to deal with the hassles of maintenance and installation complexities.