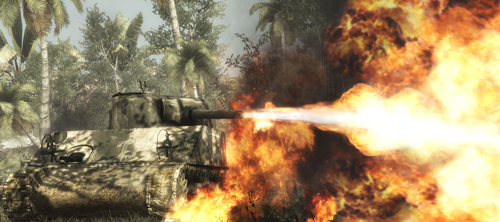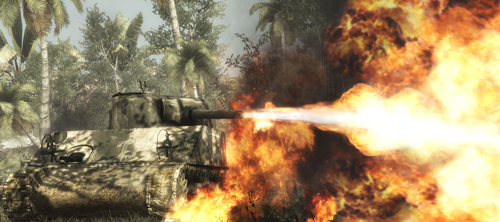 By Luke Anderson
I'll be the first to admit that the whole "World War II" game concept has been overdone. I've lost count of the sheer number of titles with that exact theme that have been released in the last few years. That's not to say that they're all bad games, it just makes you wonder when a game franchise lasts longer than the war it's based on. But I digress. I've been playing the latest installment of Call of Duty for a little while, and it's about time that I shared my thoughts.
The first thing you're going to notice when you get into the game is that the graphics are incredible. There are some times when it's kind of cool to just stop and take in the lush foliage of the jungle, of course that's usually disturbed by the bullets flying by. The level of detail is certainly not lost when it comes to the more gory parts of the game. It's not terribly uncommon to see someone lose a bloody limb or two, which I'm sure holds true to what actually happened to some during the war.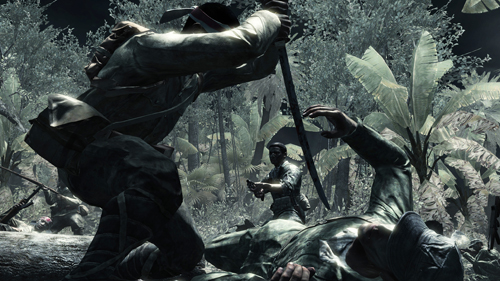 The game plays much like the previous installments of the franchise, which really isn't a bad thing. The controls are smooth, the progression through each level is steady, with very dense and detailed maps. The AI isn't the most intuitive, with enemies that love to run right past you, or allies that occasionally seem to be on break in the heat of battle. It is a minor annoyance, and isn't frequent enough to really throw off the game.
If multiplayer is your thing, then World at War will certainly deliver. You've got 8 different modes of play with 13 maps to choose from. Co-op is always a blast, but when you add in Nazi Zombies it gets even better. In case you hadn't heard, after completing the game you unlock this special mode in which you and three friends have to fight of endless waves of Nazi Zombies. Seriously, it just doesn't get much better than that.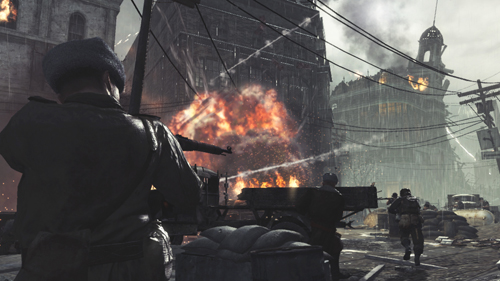 So yes, we've probably got enough World War II games to last a lifetime, however, Call of Duty: World at War shows us that there is always room to improve. While CoD4 was an excellent game, I'd definitely say that World at War raises the bar. If you're into first-person shooters, especially military-based shooters, you're going to love this game. It is currently available for the PS3, Xbox 360 and PC platforms.
[ Call of Duty ]