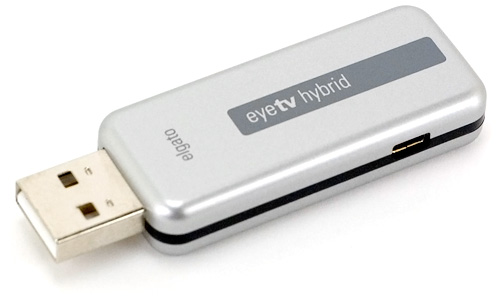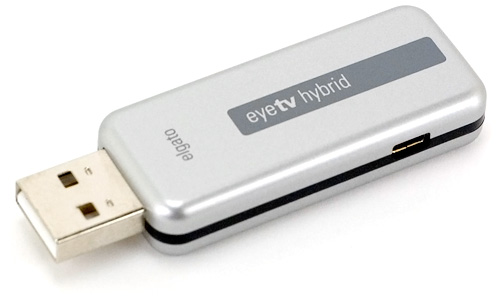 By Andrew Liszewski
I'm as big a fan of streaming/downloading content online, or watching TV on demand, as anyone these days. But I also have to admit that at times I still enjoy the randomness of broadcast television, and just flipping on the TV and taking what I get. The feeling is hard to describe. But it's like The Simpsons. While I own every season on DVD (up to season 10 of course) and can watch a given episode whenever I want. There's still some appeal to randomly stumbling across a classic episode on TV.
But for most people, enjoying broadcast TV is limited to sitting at home on the couch in front of the flat screen. It's not always easy to take it with you. Portable TVs are always an option, but who wants to bother when you probably already have a laptop with you while traveling? So most of the time you'll settle for a show or movie you've 'purchased' online. But with Elgato's EyeTV Hybrid dongle you don't have to settle. If you're sitting in an airport and want to see what's going on with the local news, you can just plug it in to your laptop and enjoy broadcast TV right in your lap. It can even turn your laptop into a portable DVR, stream a live broadcast to your iPhone or iPad and best of all, the hardware is smaller than some flash drives. Check out our full review after the jump.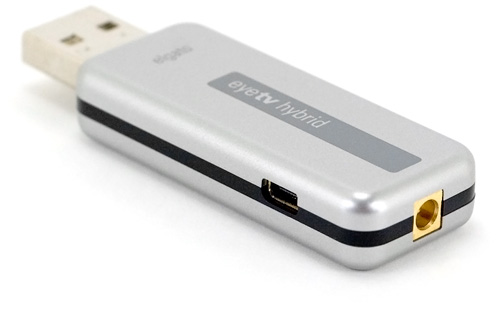 So maybe the best part of the EyeTV Hybrid tuner is really how easy the software is to setup and run. But the small USB dongle it uses to tune in analog NTSC, digital ATSC & QAM broadcasts is a big part of its appeal. On one end you'll find a USB connector, and on the other is a couple of proprietary video ports that help keep its overall size to a minimum. And that's it. No power buttons, no annoying LEDs, nothing. You just plug connect a signal source, plug it into your PC and you're good to go.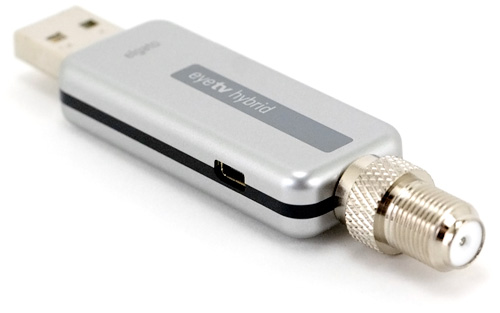 Now for the most part I suspect that people who've purchased the EyeTV Hybrid tuner will be using it with broadcast signals either pulled in through a cable coming from the wall, or from a small antenna getting it over the air. And in that case you'll need to attach an included coaxial adapter to the dongle. Oddly enough I don't see any reason to remove it once it's attached. It's unobtrusive, doesn't add much to the size of the dongle, and for the life of me I can't figure out why Elgato didn't permanently incorporate the adapter into the dongle's design to begin with.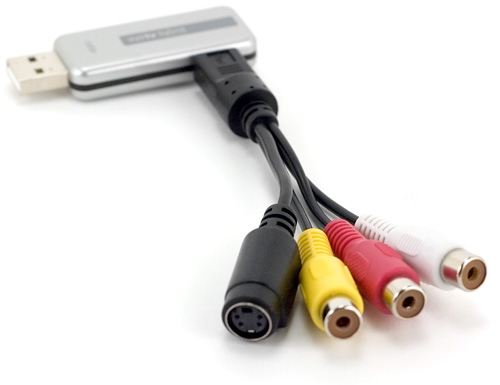 You can also use the EyeTV Hybrid as a 'video-in' connection for your laptop, allowing you to connect old camcorders to digitize footage. Or even a gaming console if you've decided to travel with something like a Wii in tow. For those times you'll need to use the included break out cable which connects to the square port on the back of the dongle. It only gives you stereo audio and composite or s-video connections, no component or HDMI here. But again, it's understandable given the product is designed with portability in mind.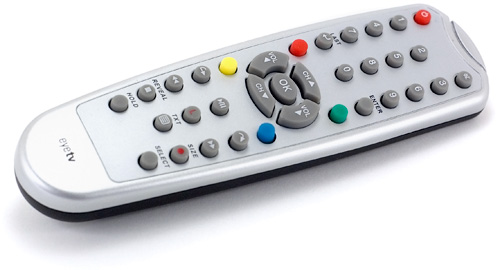 Unfortunately the one area where that 'keep it compact' mentality was totally ignored is when it comes to the EyeTV Hybrid's included remote. As far as compact remotes for portable devices goes it's monstrous, and while it lets you control any of the included EyeTV software's functions from afar, I highly doubt I would ever leave the house with this crammed in my laptop bag. It's obviously a last minute addition to the package, and I really think Elgato should seek out a smaller solution for future versions of the product.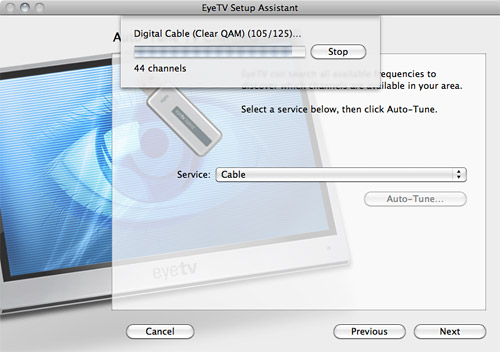 Once you've got the dongle attached, a broadcast source connected to the coaxial adapter, and the included EyeTV software installed, you have to go through a relatively quick setup process. It's pretty painless as you specify which hardware you're using (it would be nice if the setup process could just detect it automagically) and what source you've got connected. Cable or an OTA signal. After that it goes through the process of auto-detecting channels, which admittedly is a little tedious if a lot are available from your source. It took about half an hour to collect a full run-down of the channels available via my cable service.
You also have the opportunity to sign up for TV Guide's data services which are free for the first year, but $19.99/yr after that. Having that info of course makes it far easier to find something to watch, but it's also pretty integral when it comes to scheduling recordings and using the EyeTV software as a DVR.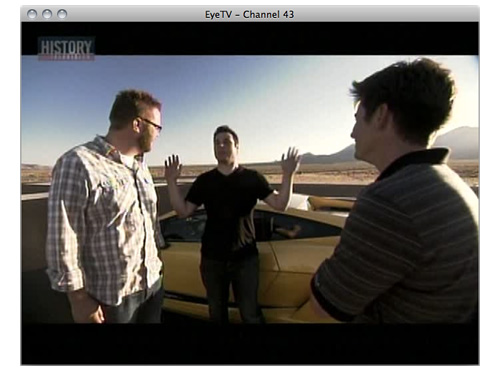 Once everything is setup and your channel lineup has been detected, you can start watching TV right away in a window that can be set to always be on top if you want to work at the same time. Or in full screen mode if you're going to stop pretending that you're actually going to do anything productive while watching TV.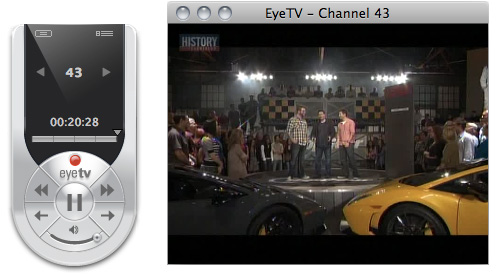 Flipping channels, adjusting the volume and going into the DVR's menu settings can all be accomplished through the aforementioned included remote. But there's also an on-screen remote option if you're sitting at your PC and are willing to use your mouse. It's got access to all the functions you'd need including recording and rewinding live TV since like Tivo and other DVRs, the EyeTV software is constantly recording a live buffer of what you're watching. Limited to a specific amount of drive space in the preferences. But if you do choose to use the remote instead, the on-screen controls can be hidden as needed.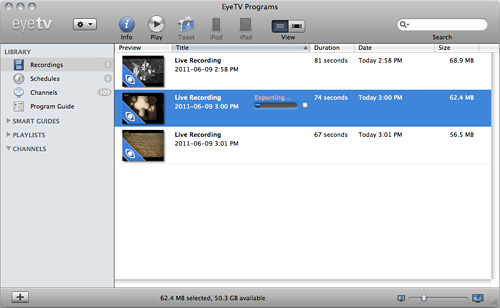 The EyeTV software also has it's own PC-friendly front-end that provides a list of all the recordings you've made, in addition to keeping track of scheduled recordings and the program guide. Each episode or snippet of TV that's been captured shows up in this list and can be watched or deleted as needed. You can also pop-up a basic video editor, but from my testing it's really only useful for chopping off extra content at the beginning or end of a show. If you were hoping to splice out 'naughty' scenes to make a show more kid-friendly, you'll have to use a more powerful editing app. I also want to point out that the video captured by the EyeTV software is at a lossless quality, which means the digital stream that's recorded is exactly as the broadcaster has encoded it. So you're not losing a generation of quality.
One feature I really like is the one-button export for making a recording iPhone or iPad friendly. There's a dedicated button for each device, and once clicked you'll see a small progress bar on the specific show as it's re-encoded for the portable devices. When done, the new clip is exported to your iTunes library automatically so that you can sync it to your device. There's also a button for exporting the clip to Roxio's Toast multimedia conversion software, but it's not included. And like I said at the beginning of my review, the software is extremely easy to use. With minimal fuss required to configure things like video quality and the like. Sometimes I like being able to tweak an app to exactly what I need, but other times I'm happy to just enjoy a user-friendly experience.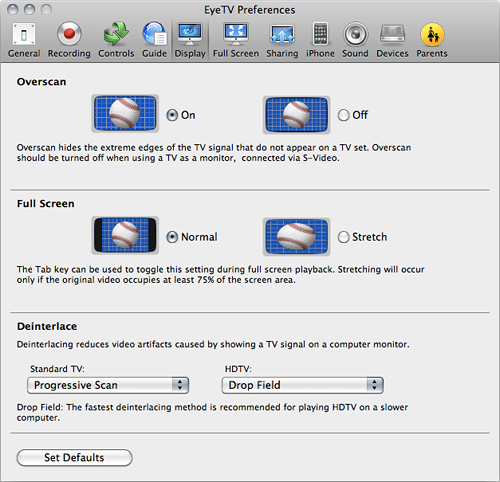 But that's not to say the EyeTV software is completely crippled when it comes to tweaking it to your needs. The preferences still give you a decent amount of options when it comes to everything from how the video is displayed in a window, to sharing recorded content to other devices on your network, to setting up parental controls. If you're really picky when it comes to re-encoding video there are certainly more advanced options out there you can use. But as a basic DVR I think the EyeTV software has more than enough options for the average user. It's pretty much on-par with the branded DVR boxes offered by most cable companies in North America, as well as Tivo.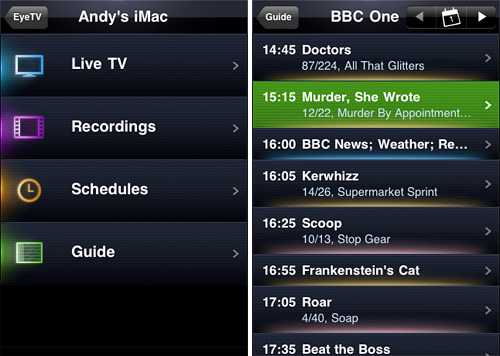 One last thing that iPhone, iPod Touch and iPad users will like, is that Elgato have created an accompanying EyeTV app that can be used with iOS devices. Sadly it's not available as a free companion to the EyeTV desktop application. It will actually cost you $4.99, but I think the extra functionality could certainly be worth the price if you find yourself relying on the EyeTV app as your main DVR. The iOS app lets you stream anything you've recorded to the portable devices, over wifi or 3G (with a drop in quality of course) including live TV! So if you've ever fantasized about enjoying TV while using the bathroom, this will pretty much make those dreams come true if you've got an iOS device at your disposal. (Oh come on! I'm pretty sure I'm not the only person to have thought about this!)
Having used other USB-based TV tuners in the past with limited success, I have to say the EyeTV Hybrid is certainly one of the simplest and easiest solutions I've come across. The compact USB dongle makes it easy to toss in a laptop bag if you're hoping to enjoy some local TV content while traveling. Just keep in mind that you'll also have to bring along a compact antenna if you were hoping to tune in some OTA ATSC content. But still, if you have limited access to the internet, and forgot to load up your system with movies and TV shows before you left, it's a nice alternative to watching old episodes of Top Gear again and again. (Not that there's anything wrong with that!)
I also think it's a great way to turn a home PC into a fairly functional home theater setup. I know a few people who've opted to keep a larger screened iMac in their living room that doubles as a TV for watching downloaded content. But with the EyeTV Hybrid kit it can easily serve as a full-featured DVR as well. But the real beauty is that you're not limited to ONLY watching things on the PC where they were recorded. It can also be sent to an iOS device to be synced and watched later, or streamed live using the accompanying app. I know Apple already has a lot of this functionality with the Apple TV, AirPlay and iTunes, but they have a distinct lack of free content when compared to OTA ATSC broadcasts. And if you've got a large monthly iTunes bill, that's reason enough to give the EyeTV Hybrid some consideration.
Pros:
+ A compact accessory that lets you enjoy broadcast TV on your PC or laptop.
+ Included EyeTV software turns your PC into a fairly capable DVR. And makes it easy to convert recordings to iPhone or iPad friendly versions.
+ EyeTV software is also able to stream recorded and live TV to an iPad or iPhone with an accompanying app.
Cons:
– A little on the expensive side at $149.95.
– Accompanying EyeTV iOS app is an additional $4.99, instead of being free.
– Requires at least a compact antenna to tune in OTA ATSC signals, and reception is dependent on where you are.
– Included video in breakout cable maxes out at an s-video connection. No HDMI or component.
– If you've gotten used to online content you'll have to learn to deal with commercials again.
Links:
EyeTV Hybrid TV Tuner – $149.95
If you have any questions about the EyeTV Hybrid TV Tuner you'd like answered, please feel free to leave them in the comments, and I'll try to respond to them as best I can.