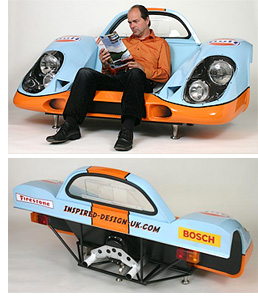 By Andrew Liszewski
Though completely impractical I don't think any car nut can look at this sofa and not want one for their own pad.
Billed as a "unique piece of creative art" the sofa is designed to look like the front end of a Porsche 917 which was raced at LeMans in the early 70's. The body of the sofa is made with actual fibreglass and is painted with nine coats of two-pack automotive paint for a great looking, durable finish. Even the underside of the sofa looks good and is made from 16 gauge tubular steel that is finished with a black powder coat.
Functioning headlights and brake lights are available as an option and if the blue and orange paint job doesn't do it for you the sofa can be finished with any color scheme or graphics you like. Keep in mind though that being the envy of all your car-loving friends does come at a price, specifically about $7,500.
[Porsche 917 Inspired Sofa] VIA [Autoblog]