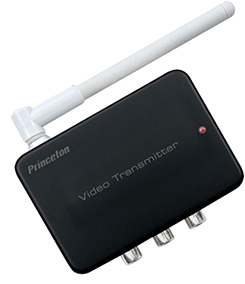 By Andrew Liszewski
Tiny FM transmitters used to deliver music from a portable audio device to your car's stereo system have existed for many years now and a quick walk through the iPod accessory section of any Apple store will show they're more popular then ever.
However this is the first transmitter I've seen capable of broadcasting both audio and video to a television set. From Princeton Japan comes the PCK-UAV video transmitter that has a basic set of RCA hook-ups and will broadcast the video and audio signal on the UHF band. I don't think the device allows you to set a specific channel so it seems you'll need to be able to tune the TV set to the one the PCK-UAV uses. And while I can't imagine you'll be enjoying amazing picture quality, this could work out as a handy solution in certain situations.
The Princeton PCK-UAV will be available in Japan in the next month or so for about $70. Does anyone know if these devices can be legally used in North America?
VIA [New Launches]