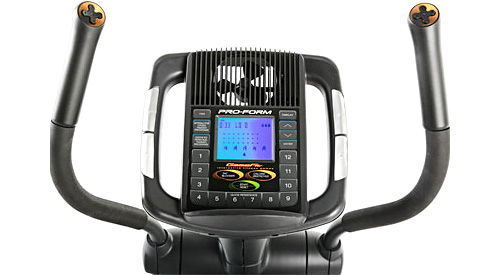 By Andrew Liszewski
In the same way that 'Schoolhouse Rock' tried (and failed) to make learning fun this new elliptical trainer from ProForm also tries to make exercising fun. It includes a 'GameFit' feature which is basically just a couple of simple, old-school video games you can play while working out. But it is interesting how the gameplay has been tied in to your physical activity.
By combining an amazing elliptical workout with 2 GameFit interactive video games built into the console, you'll literally play your way to a better body. Not only do the games entertain you as you workout, but they help you get better results. Each interactive game is designed to become easier to play based on how hard you exercise – motivating you to get more out of your workout.
As you can see the handles of the trainer each have a small 4-way control pad for playing the games and while I was going to bring up the issue of them getting sweaty I realized a lot of standard game controllers probably face the same conditions, if not worse.
The ProForm CrossTrainer with 'GameFit' is available on the company's website for $799.
[ ProForm 20.0 Elliptical CrossTrainer ] VIA [ Newlaunches ]