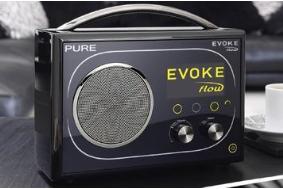 By Jonathan Kimak
It looks like internet radio is branching out to reach people who want to listen to the music without being near a computer. Electronics company PURE has announced that they will be releasing the Pure Evoke Flow radio in the UK next month.
The radio will connect wirelessly to the newly created website Pure Lounge. From there the radio can tune into a variety of internet radio stations. In addition the Evoke Flow can also tune into traditional FM stations and DAB(Digital Audio Broadcasts) where available. Favorites from the Pure Lounge can be simultaneously saved on your computer and the radio.
Price is set at £150 ($277).