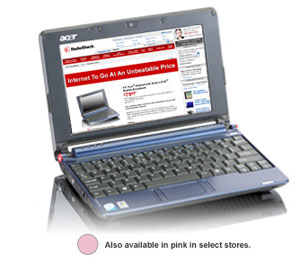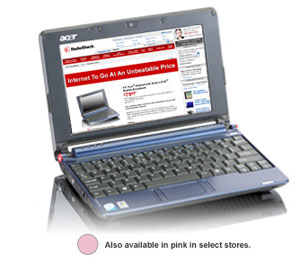 By Shane McGlaun
I hate paying full price for stuff, but I am not a big fan of contracts either. When it comes to buying new phones we are all used to paying a subsidized price and being shackled to a 2-year contract or having to pay back some of the supposed cost of your phone.
Subsidized phones are common, but subsidized notebooks and netbooks are still not particularly common in the US. RadioShack was the first to offer a subsidized netbook in America that was dependent on signing a 2-year contract with AT&T for mobile broadband costing at least $60 per month.
When first announced last Christmas the netbook cost $99. RadioShack has reduced the price of the subsidized 8.9-inch Acer Aspire One to $79.99 now with the same 2-year agreement stipulation. The netbook runs Windows XP and features 1GB of RAM and a 160GB HDD. The machine is available in blue or pink colors.
[ RadioShack ]