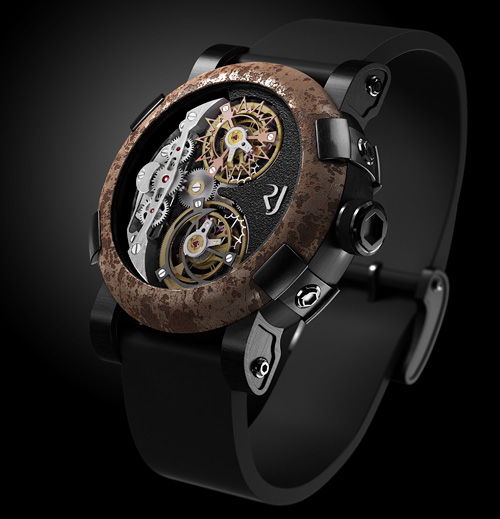 By Andrew Liszewski
While Romain Jerome isn't exactly the first company that springs to mind when you think of luxury watches, they have made a name for themselves with their Titanic DNA watch that includes salvaged materials from the infamous luxury liner. Apparently the watches sold quite well, and they seemed to have inspired Romain Jerome to stick with the 'gimmick' approach when it comes to their designs. How else would you explain the Day & Night watch which doesn't have any hands on the face, and is only able to tell you if it's… well… day or night. And it's not like the company is trying to keep the fact that the watch can't tell time a secret.
World First – An exceptional timepiece that does not indicate the time!

With no display for the hours, minutes or seconds the Day&Night offers a new way of measuring time, splitting the universe of time into two fundamentally opposing sections: day versus night.

A new interpretation of Time based around two Tourbillons operating sequentially. The Day Tourbillon operates during the day, defining the wearer's period of activity, and stops after twelve hours, handing over to the Night Tourbillon dedicated to man's own private sphere.
It kind of reminds me of P.T. Barnum's 'Fiji Mermaid'. A genuine fake! Anyways, apparently the Day & Night watch was an extremely limited edition of just 9 pieces that instantly sold out, even though they each had a price tag of $300,000. Sigh.
[ Romain Jerome Day & Night ] VIA [ Gizmag ]