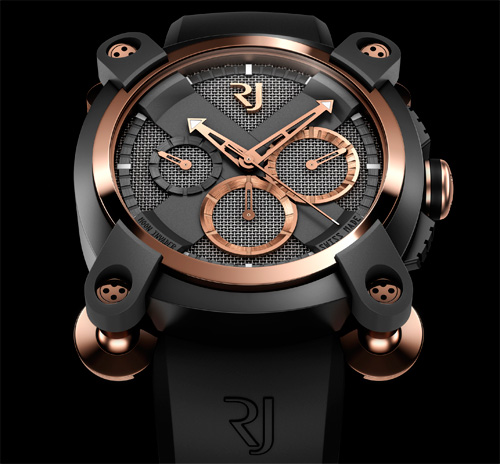 By Andrew Liszewski
It's hard to criticize Romain Jerome for their recent rash of gimmicky watch designs since I'd never actually heard of the company before they started incorporating dinosaur bones, moon dust and pieces of the Titanic into their watches. So I guess the approach has worked, and it doesn't seem like the company is ready to give it up just yet. Hence their latest model, the Moon Invader.
A new 46mm case with a bevelled, yet rounded, design is made from "steel coalesced by fusion with spare parts from Apollo 11" and the 4 ball-and-socket joints surrounding the face are designed to look like the feet of the original lunar landing module. But they're functional too, holding the lugs of the rubber strap and enabling the watch to adjust and fit almost any wrist. And while I'm sure the design team at Romain Jerome are treated like superstars, I think their PR people, particularly their press release scribe, deserve some real praise too for their creativity. Here's how they describe the back of the watch:
The promise embodied in the special 'Moon Silver' plate on the stellar case-back of the watch is a powerful promise of the Moon on the wrist – thanks to a silver alloy boasting an extremely low oxidisation rate and incorporating moon rocks. This engraved plate depicts the lunar surface, of which the mineral particles interact on an infra-molecular level with the wearer of the watch. The Moon within reach, like a talisman to help keep your feet firmly planted on Earth. The veined pattern and grainy texture on the case-back evoke the future superstructures of lunar colonisation bases. These motifs also extend along the rubber strap. The security screw locks the access "hatch" to the movement of the Moon Invader.
The Moon Invader will be limited to a clever 1,969 pieces, and while pricing isn't known, I'm sure it will follow in the extremely expensive footsteps of its predecessors.
[ Romain Jerome Moon Invader Watch ] VIA [ Acquire ]