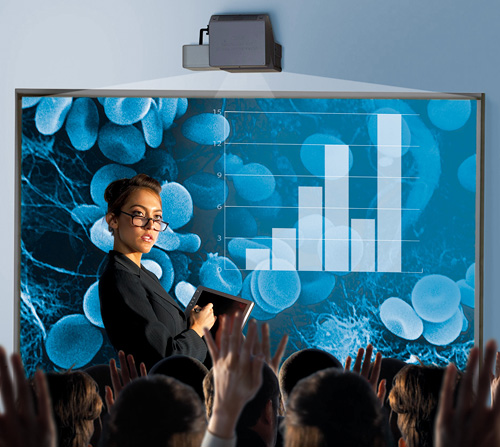 By Andrew Liszewski
If your office is big on meetings, but short on space, it might be time to upgrade to an ultra short throw projector like the PLC-XL51 from Sanyo. The projector uses a large diameter aspheric lens and a high-precision aspheric mirror that allows for large projections from an extremely short distance, without distortion. From a distance of just 3 inches the PLC-XL51 can actually project an image up to 80 inches in size. So not only is it useful for small rooms where you want to project on a wall, but it can even be handy for architects who want to project a set of blueprints onto a table.
The PLC-XL51 is actually an upgrade to the company's PCL-XL50 model, and adds Sanyo's exclusive PJ Network interface which allows you to monitor and operate the projector's functions from anywhere you have access to a web browser. Other features include a 'Color Board Mode' which allows you to adjust the hue when projecting on a colored surface so that it actually appears to be projected on white, as well as a built-in vibration security sensor which sounds an alert when the unit is picked up.
The Sanyo PLC-XL51 will be available come September of this year with a price tag of $3,995.
[ Sanyo PLC-XL50 (previous model) ]