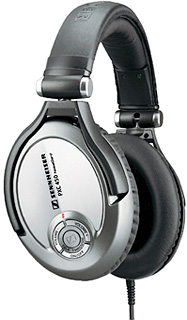 By Andrew Liszewski
Besides probably sounding really good these new headphones from Sennheiser also incorporate the latest version of the company's NoiseGard 2.0 technology. Poor spelling aside this technology was originally developed for pilots and version 2.0 incorporates higher quality microphones, more efficient processors and improved filtering algorithms to block out up to 90% of unwanted background noise.
The other nifty feature of the NoiseGard 2.0 technology which is particularly important to pilots is the talkthrough function. When activated via buttons on the side of the headphones you'll be able to clearly hear someone next to you talking while unwanted background noises are still being filtered out.
Since the PXC 450 headphones are ideal for use when traveling they have a convenient folding design and even include a carrying case. They're powered by 2 AAA batteries and the aforementioned controls on the side can also be used to control volume. They should be available later this month for around $800.
[ Sennheiser PXC 450 ] VIA [ Tech Digest ]