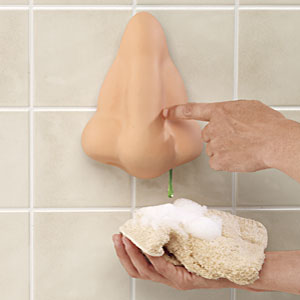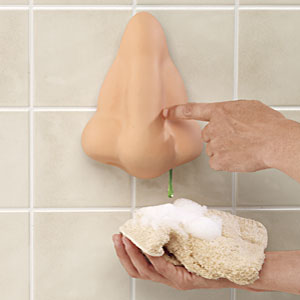 By Jonathan Kimak
If you were a kid in the 80's you may remember getting the NES when it first came out and you may also remember the Nickelodeon show Double Dare. The game show for kids had an end level that involved finding a flag inside the nostrils of a giant nose that was filled with simulated mucus. If you liked that part of the game then you might like this soap dispenser.
The Nose Shower Gel Dispenser sells for $17.95 and dispenses green shower gel(included) out of its nostril. It can attach to your shower wall via suction cups. Of course with the nose and the mucus-like gel you might not feel clean even after showering.
I'm not sure if anyone would actually want this but it could make a good gag gift, so long as the real gift is something spectacular.
[ Nose Shower Gel Dispenser ] VIA [ medGadget ]