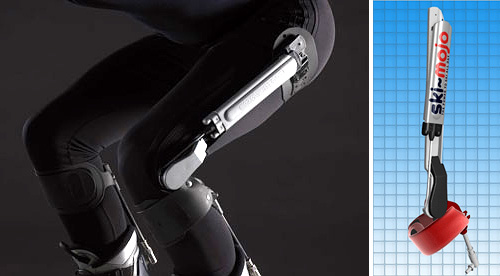 By Andrew Liszewski
While the Ski Mojo might look like a device capable of giving you super strength, I'm afraid it won't make your Iron Man dreams come true. What it will do though is help you maintain a proper bent-at-the-knees posture when you're out skiing, as well as provide some extra support to your legs so that you can keep that squat position a lot longer. Believe it or not the device has been in development by a company called Kinetic Innovations for about 11 years, and has only recently become available for sale to the public.
Understandably, the Ski Mojo hasn't gone over so well with self-proclaimed skiing 'pros' who feel that a little soreness is part of the whole experience. But as far as I'm concerned, they fail to realize (or at least acknowledge) that their bodies are going to age whether they like it or not, and one day a device like the Ski Mojo might be the only way they can enjoy a full day on the slopes.
The Ski Mojo is available directly from the Kinetic Innovations website in 9 different sizes and 'strengths' depending on your weight and how much cushioning or support you're looking for. But they all sell for the same flat rate of about $580.