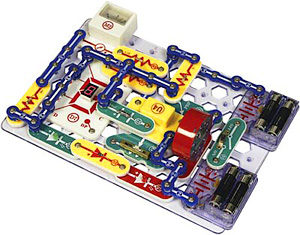 By Andrew Liszewski
While as a kid I really had no interest in electronics but these days I wish it was a skill I had at my disposal thanks to websites like MAKE who have some really great DIY projects that unfortunately seem to always require a bit of wiring or soldering.
So if there are any parents out there who are looking to start their children down the path to electronics know-how let me suggest starting them off with these. Snap Circuits are kind of like Lego in that they can be assembled and disassembled with ease but instead of constructing pirate ships or little towns your kids will end up with actual functioning devices like radios, digital voice recorders and more than 500 other projects.
The Snap Circuits kits are available in a variety of sizes starting at $29.95. Pictured above is the Snap Circuits Pro Model which is available at Speedydog for $80.96.