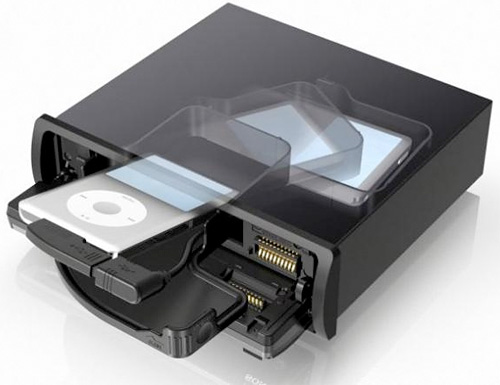 By Andrew Liszewski
Sony's Tune Tray car stereo line was apparently introduced at CES this year with the DSX-S100 model pictured above. It's yet another PMP-friendly deck with support for MP3 or WMA files, satellite and HD radio and a feature they call ZAPPIN which plays 6, 9 or 30 second clips of each song until you find the one you want. Pretty much the same thing as the 'Scan' feature that's existed in car radios for years and years, but made cooler with the name 'ZAPPIN.' The most unique feature of the DSX-S100 though is the Tune Tray which uses the space that would otherwise be occupied with a CD player to store and protect your MP3 player inside while it's connected.
And even though the DSX-S100 is still listed as coming soon on the Sony website, the company has just announced two new models, the DSX-S200X and the DSX-S300BT. The S200X adds a second USB port on the front for connecting an additional audio device, and Sony's SensMe technology which creates custom playlists and channels from your music, kind of like iTunes' Genius, while the S300BT gets all of the above plus Bluetooth support for hands-free calling and streaming your music over A2DP.
The DSX-S200X and DSX-S300BT are expected to be available in September for around $200 and $280 respectively, while the availability of the original DSX-S100 is still unknown, but should sell for around $150.
[ Sony DSX-S100 ] VIA [ CNET ]