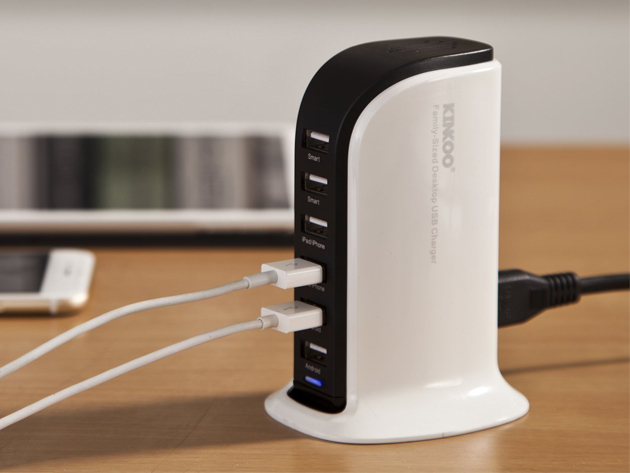 For all the talk of external batteries being able to charge your mobile devices, we hardly ever discuss at-home, wired solutions. Because for all the convenience a portable battery can give you, it does trade off some raw capabilities in doing so. The Kinkoo 40W 6-Port High Speed Charger is a perfect charging station for the whole family, capable of getting up to 6o devices powered back up simultaneously.
It's time for a power upgrade— throw out that tired-out power strip and swap in this family-size USB charger, packed with 6 high-speed ports. With a built-in control chip, Kinkoo optimizes each port to ensure the fastest charging possible for all your devices. The Kinkoo is made from high-grade and durable materials so you can rest assured it will continue to power your devices for years to come.

– Made with quality, industry -grade materials & premium circuitry
– Charges 6 USB devices at a consistent high speed
– Contains an intelligent chip that detects your device & selects optimal charging speed
– Indicates when it's ready for use w/ blue LED
– Charges up to 85% faster than conventional chargers
– Compatible with all 5V USB-charged devices
– Designed for US and international voltages (100-240v)
– Certified w/ CE, FCC and RoHS, enduring complete safety
It's a great little device to have around the kitchen, or any other family gathering point. At $35, down from $50, it's also a steal.