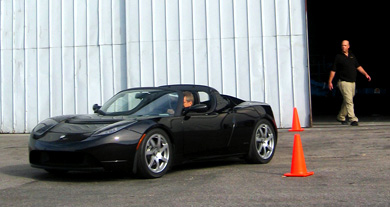 By David Ponce
News of the Tesla Roadster has been around for some time. We're mentioning it now for a couple reasons. First, we got us some sweet videos of the launch party; no, we weren't actually there, but our hearts made the trip via YouTube goodness. Secondly, featured in one of the videos as the poster child of old-style electric car Ugly was the NmG we talked about a little while back. This made us laugh.
For those of you who've been living under a rock lately, the Tesla Roadster kicks some serious butt, exploding battery jokes notwithstanding. Its performance rivals that of some high end sports cars and it does a very good job of dispelling the notion that electric cars are for sedate tree huggers. It can drive up to 250 miles on a single charge, and does 0 to 60mph in about 4 seconds. It redlines at 13,000 rpm and has a unique, somewhat flat torque curve, with peak torque at 0 rpm, and almost constant output throughout. This means that you'll feel the biggest kick in the bucket as soon as you step on the pedal, and it'll keep at it until you let go. In contrast, gasoline engines start off with low torque, and reach peak output in a relatively narrow band. It's this particular behavior that accounts for the Tesla's remarkable 0 to 60 figure.
Price for this beauty is said to be around $90,000, though chances are it'll be hard to get your hands on one. But, coming inside and checking out the videos is free, and you can do that right now.
[Tesla Motors Website] VIA [TechEBlog]