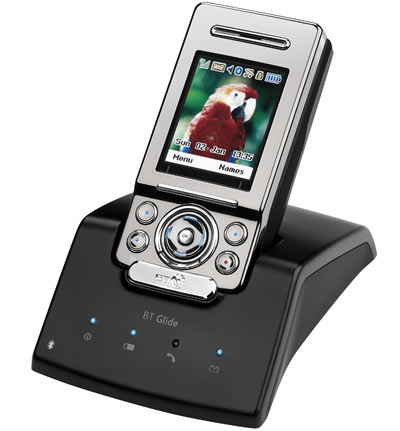 By David Ponce
As far as features are concerned, cellphones have it good. Land phones are getting left behind, and are comparable to, well, musty old grandmas really. For some reason though, British company BT is trying to spice things up for them, and if you ask me, are doing a great job of it.
The new BT Glide is a cordless land phone with the heart of a cellphone. It's a slider, and it's got Bluetooth. That means it can synchronise with your cellphone or PC, to update your contact list. You can also use a Bluetooth wireless headset with it, though at this point, you're getting a little cordless/wireless action, and it's all a bit confusing.
Other features include a 2″ 65k colour display with 15 wallpapers, 3 games and the ability to send SMS.
It's ?180.
[The BT Glide] VIA [SciFi Tech]