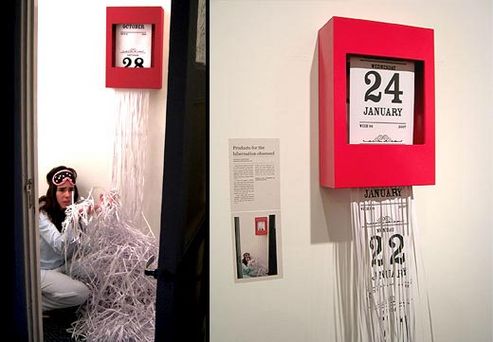 By David Ponce
The Chrono Shredder is an artsy project by one Susanna Hertrich. It's pretty much just a calendar, but with an interesting twist. You feed it a 365 day roll of paper, and start it up. It'll then slowly unwind, and shred the passing days as it does so. It doesn't display the actual day, only the pristine future, and the shredded past.
The Chrono_Shredder is a device that makes past time tangible. It is a hybrid between calendar, clock and waste producing automaton. It has no on/off-button, thus it is unstoppable, just like time. It features the 365 days of the year represented on a paper-roll. The paper-roll is led through a hacked paper-shredder, which is programmed to use exactly 24 hours to shred one "day". The Chrono_Shredder's function is not to show the current moment, like a calendar. Instead, it shows the nearest future (the next day) — and all the time that has past from the time the device has been switched on.
We actually kind of like the idea, and think it would be quite the hit at our beatnik parties. Unfortunately, price or availability are unknown, though it's likely just a project for now.
[ The Chrono Shredder ] VIA [ Technabob ]