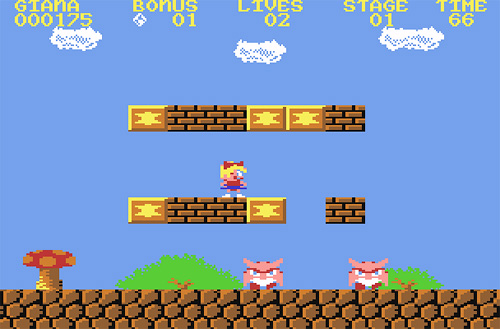 By Andrew Liszewski
They say there's no such thing as bad publicity, and time and time again we've seen that a bit of controversy can do wonders for a game's popularity. Sometimes that is. While it didn't contain any gore or adult material, let's just say that Gary Coleman would probably refer to The Great Giana Sisters as the biggest rip-off since Webster. The game wasn't just an homage to Super Mario Bros., it basically was Super Mario Bros. In fact, the version of the game I had for my C64 was cracked to include Mario sprites, and it wasn't until years later that I learned Nintendo hadn't actually produced a version of their beloved side-scroller for other systems.
And speaking of Nintendo, not surprisingly they didn't feel that imitation was the sincerest form of flattery, and pursued legal action to have the game removed from store shelves almost immediately after it was released. But since The Great Giana Sisters was one of the rare 2D side-scrolling run-and-jump games that existed for PCs at the time, it managed to live on as several unofficial ports throughout the years.

But apparently time does heal all wounds, and believe it or not a company called dtp entertainment has secured the rights to produce an official The Great Giana Sisters sequel for the Nintendo DS of all platforms. The game is scheduled to hit Europe sometime in June of next year, though plans for the North America release haven't been revealed. But here's to hoping for a most excellent rip-off of New Super Mario Bros. this time.
[ Shacknews – Famed Mario Rip-off Giana Sisters Coming to DS ]
[ Lemon64.com – The Great Giana Sisters ]