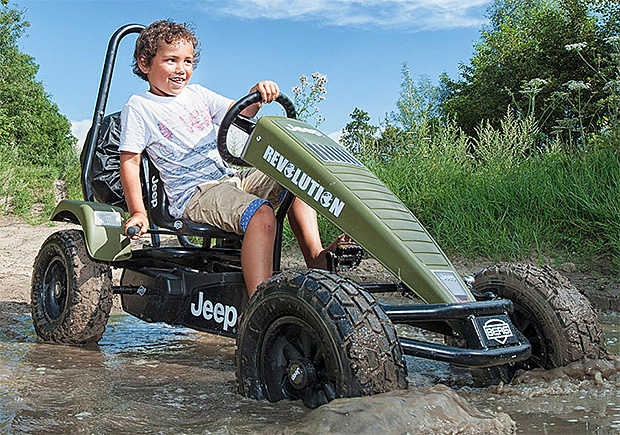 Being the age I am, the kind of wheeled toys I had as a child never involved much more than a flimsy plastic trike with a big wheel up front; you know the ones, straight from the 80's golden years. Man, what I wouldn't have given to get my hands on the Jeep Revolution BFR-3 Go-kart.
The Jeep® Revolution BFR-3 is a sturdy go-kart with no fewer than three gears, back-pedal brake and a unique system that allows you to pedal both forwards and backwards! Thanks to the double ball bearings steering is extremely light, making you very manoeuvrable in every curve. The go-kart can be extended with a second seat, for instance, so your friend can join the ride. And if you do want to take a break, you can simply put it upright in the shed!
Optional equipment includes a sport steering wheel, heavy duty brake pads, a spare tire, and even a 'board computer'. So not only is the BFR-3 already pretty badass, you can actually upgrade the darn thing? It's awesome… but come to think of it, even if it would have exited in my childhood, I never would have driven one: it's $1,000!
[ Product Page ]