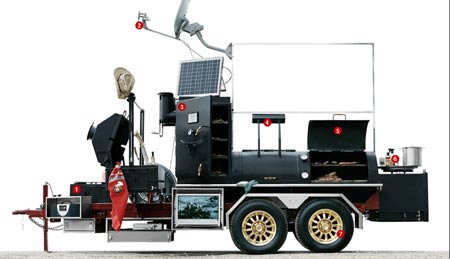 By David Ponce
Allright, that's it. This is the beginning, the middle and the end of it all. I will die a lonely shriveled death if I fail to spend some quality time with this: The King Of Barbecues.
The 160,000 B.T.U.s of Hank Hill-icious pRopane power is only the beginning of the story. There's also a smoke chamber that can fit up to 100 6-pound chickens. But that's not all, see, The King also has a:
satellite TV and radio, a Sony flat screen, and a solar-powered DVD and DVR ? and it sports 24-karat-gold rims and door handles.
I can't find a price for this custom creation from David Close BBQ, but word on the street is that this might belong to some rapper or other.
Gold rims? Yeah, I can believe that. It's definitely pimpin.
[David Close BBQs] VIA [Gear Factor]