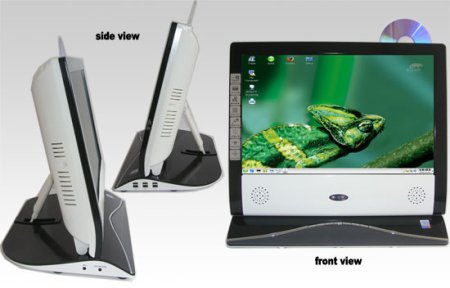 By David Ponce
Looks like something fun to have in the kitchen, maybe. Hong Kong based company Quataris is introducing the QuaNext flat panel TV/PC. That's right, it's both. At the press of a button, on the remote, the device switches between a regular 19 inch LCD TV with a max resolution of 1440×990, to a computer.
The PC runs a Pentium 4 chip with maximum clock speeds of 3.2Ghz. The kicker is that it'll likely be running a modified version of SUSE Linux. The company has developed a custom multimedia center software to allow you to manage photos, music and movies with ease, all on a unit less than three inches deep. It comes in black, red and silver colors.
There's no word on price or specific availability, but you can come inside for a bunch more specs.
[The QuaNext] VIA [eHomeUpgrade]
* Pentium 4 (Prescott) processor clocked at 2.8, 3.0, or 3.2GHz
* Up to 2GB DDR400 (PC3200) RAM
* 220GB, 7200rpm hard drive
* CD/DVD slim combo drive, slot-in
* 19-inch TFT-LCD display
* Built-in Intel GMA 900 graphics chipset
* 10/100 LAN
* IR and USB 2.0
* PAL and NTSC (other formats on request)
* Dimensions: 18.5 x 15.7 x 3 inches