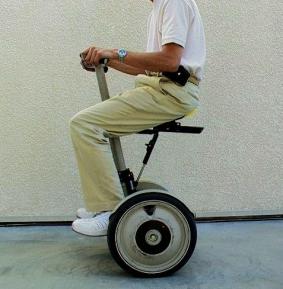 By David Ponce
When the Segway came out, I was frothy at the mouth with excitement. I don't really know why. I think it was the combination of stupid marketing tactics (remember Ginger?) with the realization that this really was one cool product. Of course, then I saw the price tag and I've been crying ever since.
Still, great as the Segway is, there are those among us who live in a great big pit of lazy, and for whom standing to get around is a little too much effort. Enter the SegSeat, an accessory that allows you to, well, sit on the Segway while retaining its unique driving dynamics.
The SegSeat glides forward and back upon a braced rail, allowing sitting riders to emulate a standing rider's typical leaning movements that control the Segway. SegSeats are also collapsible, allowing standing riders to use modified vehicles without interference.
Being this lazy is going to cost you though: the device retails for $750 either from Segway dealers or SegSeat.