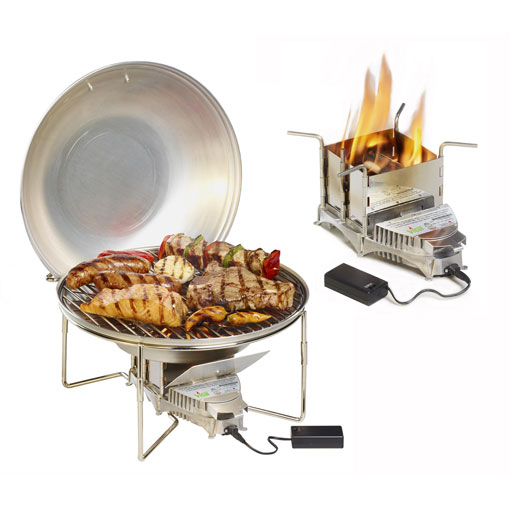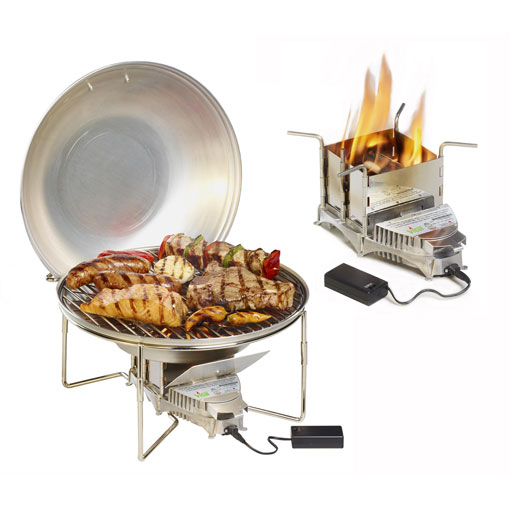 When you start a fire, it's well known that fanning or blowing on the flame will make it stronger. It's the principle behind turbos as well: more oxygen means a stronger, hotter fire. The VitalGrill uses this to its advantage to reach an output of 20,000 BTU without gas or accelerants of any sort. It's a portable stove and BBQ with an integrated battery-powered fan. It accepts any dry biological material at hand as a source of fuel: pieces of wood, paper, cardboard, twigs, straw, natural fibers, charcoal and combustible waste. Put them in the stove, and start up the fan and in three minutes it will reach its maximum temperature. The flame is too hot? Just dial down the fan.
The BBQ is easily portable, weighing in at 8 lbs and measuring 13 inches across. It's too small for your Sunday tailgate parties, but will do nicely for one of those camping expeditions where you'll be catching some fish or whatever and feel like cooking it on the spot. The stove sells separately (if you want to put pots on it, fox example) for $80, and the BBQ with stove are $150.
Hit the jump for links and a video of the VitalGrill in action.
[ Product Page ]