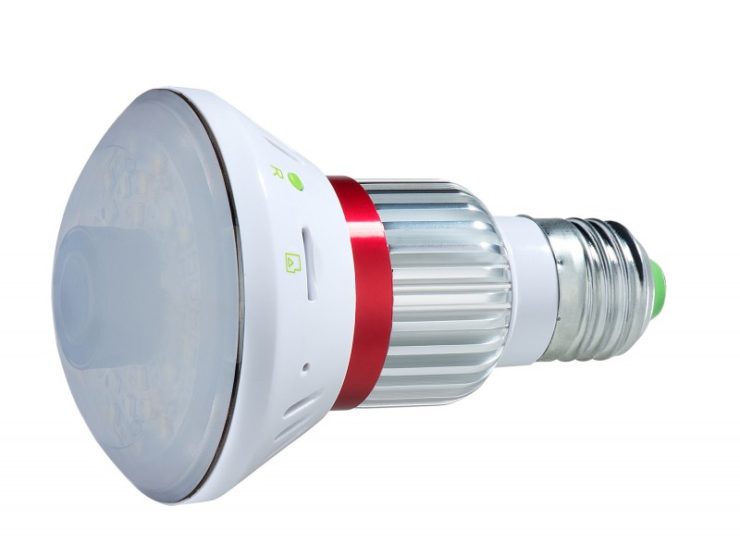 Every year, new hidden camera models hit the market that put almost everything that came before to shame. This is true not only in terms of raw functionality, but also in how effortless they are to hide in normal, everyday items. Comparing a model released this year to one that is even two or three years old is striking, to say the least. If you're thinking about purchasing a new hidden camera for 2017, here are a few models in particular that you'll absolutely want to be aware of.
The 720p HD Wi-Fi IP Light Bulb Camera
When placing a hidden camera, one of the best things you can do is find a model that looks like a common item people wouldn't think twice about. With that goal in mind, what item could possibly be more common than a seemingly normal, everyday light bulb? But the 720p HD Wi-Fi Light Bulb Camera has a powerful secret hidden inside – it's actually one of the most advanced covert recording devices on the market today.
In addition to the fact that it can store 24 hours of HD video with a 32GB memory card, it also captures faces incredibly clearly from across the room thanks to the 720p HD lens. It can capture crystal-clear video even in total darkness and includes effortless setup. Just plug it into any light socket and forget about it!
The Aetos 200 Mini Clock Radio Night Vision
Another powerful hidden camera making its debut for 2017 is the Aetos 200, a powerful HD camera with night vision capabilities hidden inside a normal, everyday clock radio. This model can record for up to a month with a single memory card, as it only records video when objects move, saving not only memory but the time needed to review your recorded footage, too. It's the perfect option for both home and office surveillance.
Clear HD Video Glasses with 8GB Internal Memory
When it comes to covert surveillance, sometimes a fixed camera just won't do. What if your subject moves, or you need to record a more intimate event than some of these other models will allow? For those situations, you have the Clear HD Video Glasses, perfect for secretly recording face-to-face interactions in nearly any environment. You can start and stop the recording with one touch, and the glasses can go for a full 90 minutes on a single charge. Everything you're looking at will be clearly recorded thanks to the 720p lens.
HD Spy Watch with Night Vision
On the subject of wearable surveillance, one of the most popular (and powerful) devices available on the market today is undoubtedly the HD Spy Watch with Night Vision. What looks (and operates) like a regular watch packs the power of a full 1080p HD camera, capable of capturing faces clearly across nearly any room. In addition to the ability to record at night, it also stores up to one hour of full HD video using internal storage – no memory card is required. It even has a full two-hour battery life, making it perfect for on-the-go convenience.
Cirrus Panda Camera
Finally, we have the Cirrus Panda Camera – the natural evolution of what many people think of when they hear the term "nanny camera" in the first place. This is a powerful 720p HD camera hidden inside a cute and playful panda toy. It's perfect for office or even home surveillance, especially when placed in a child's bedroom.
What makes the Cirrus Panda Camera so powerful is the "always on" Internet connection – you can instantly watch recorded video from your smartphone, tablet or computer WITHOUT needing physical access to the device. You can even get instant photo alerts when something happens, letting you know that the event you were trying to capture is about to go down. As with so many other models, this unit also includes night vision functionality – guaranteeing perfectly clear video even in total darkness.