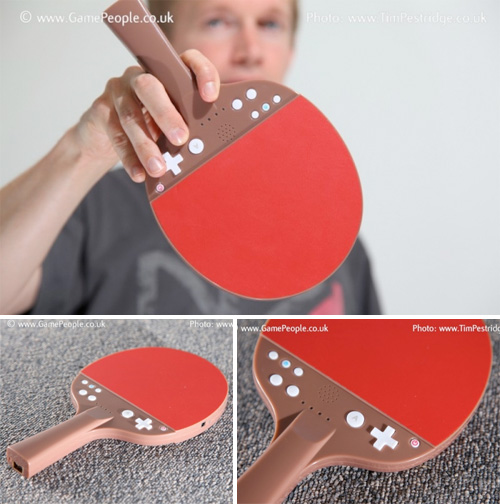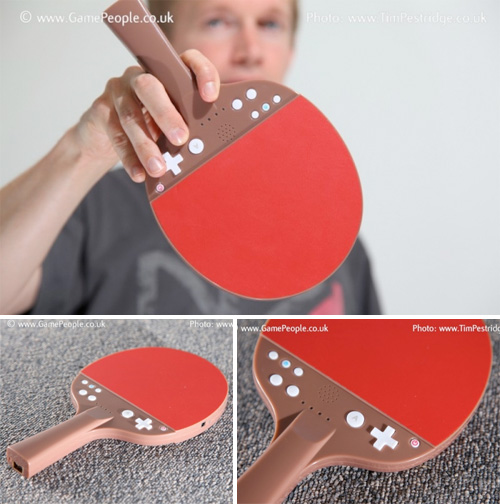 By Andrew Liszewski
I guess the steadfast rule that third party Wii accessories have to suck has just been broken. Paul Govan, self-professed Wii Sports table tennis addict and writer for Game People, recently reviewed this paddle accessory from an unnamed Chinese manufacturer. Now unlike most table tennis accessories it's not just some plastic add-on monstrosity that makes it look like your Wiimote is a paddle. It's actually a paddle shaped controller that has all the Wii electronic-y bits inside, including Motion Plus, that ends up providing a very realistic and satisfying playing experience.
Then, I found a manufacturer in China who was prototyping a new Wii Bat. Not an extension to a Wii-mote but a replacement for it. This ingenious device not only houses the standard Wii controls in a Table Tennis Bat housing but also packs in Motion Plus.

After convincing them to send me one, and opening the jiffy bag, I was pleased to find the build quality was substantial. The bat had a similar weight distribution to it's non-electronic counterpart. It came with a battery and charger and replicates all the features of Wii-mote and MotionPlus perfectly.

But most impressive it the added sense of connection it adds to Wii-Sports Table Tennis. Holding a controller so similar to the real thing – you could actually play real table tennis with it – you are instantly in the right frame of mind to engage wit the game.
There's no word on if or when this accessory will ever be available worldwide, but he encourages readers to comment on his review in hopes the manufacturer will seek out an international distributor.
[ Game People – Wii-Sports Table Tennis Bat Wii Review ] VIA [ GoNintendo ]