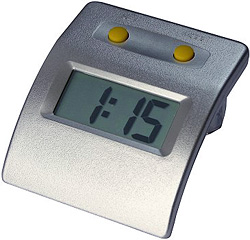 By Andrew Liszewski
When it comes to digital clocks this one is as simple as it comes. No alarms, no stopwatch and no backlight here, just the time and date. In fact I'm pretty sure you can't even buy a digital watch these days that doesn't have more features than this clock does.
However what sets this clock apart is that it's powered by water instead of a battery. All you need to do is remove two transparent tubes, fill them with ordinary tap water and after a few seconds the LCD display will come to life. The clock will then function for about two months until it needs a refill. I guess this might come in handy in case of an emergency (as long as the emergency isn't a drought) but given how many everyday devices already have built-in clocks these days I think the only real use you'll get out of this is the novelty of showing your friends it's powered by water.
The Water Powered H2O Clock is available from Select Solar for ?6.
[ Water Powered H2O Clock ] VIA [ Cribcandy ]