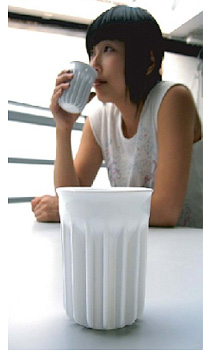 By Andrew Liszewski
We all know the stories and have heard all the jokes about lawsuits and hot coffee (I mean the actual beverage, not the Grand Theft Auto fiasco) so I'll just get to the point here.
Designed by Stephen Reed this ceramic mug effectively deals with even the hottest of beverages with a unique fin structure design that runs around the entire cup. The fins put distance between the hot liquid and the held surface which not only prevents burns but also allows for a more natural grip.
I wonder how long before Starbucks or McDonald's finds a way to make a disposable version of these cups?